I've shown legs, chest, back in movies –Monalisa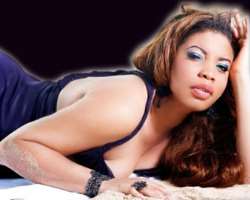 Nollywood diva, Monalisa Chinda, knows all about the joys and pains of being a celebrity. She also knows about the challenges of failed marriage, single parenthood and having a bloated weight. These are some of the things she opened up on in this encounter with SENIOR REPORTER, Ifeoma Meze
How has it been so far?
It has been ok. The road has been really smooth. I must confess that it has not been too rough. There could be ups and downs. Vicissitude? Yes, but it has been something I have been able to handle and manage properly. The journey so far has been fantastic.
Can you tell us about the soap opera you are working on right now?
Catwalq is the title of the soap opera that I shot five months ago but it is going through editing right now. We shot it for about 45 days. It is a magazine soap opera and the biggest thing Nollywood has ever done. It is going to give a lot of TV programmes a run for their money. I am not boasting; it is a brilliant work. I am one of the actresses in the movie. There are a lot of up and coming acts as well. We decided not to use too many popular Nollywood faces because we wanted to project new faces in the industry. It's just like Tinsel. We wanted to bring new acts into the picture and give them room to develop their skill and thank God we got good hands. What we are about to launch into the market right now is the first movie flick I did with my producer, Emem Isong. It is called It Takes Two. We are about to premiere it but the date has not been fixed.
What is the movie about?
It is basically a contemporary story of young talented women who are working and probably have issues with relationships. I am not a very good storyteller but the movie is about three friends. I acted the very stiff one, in the movie, I had a terrible past with men and decided not to go into any kind of relationship but my other two friends are trying to hook me up on a kind of blind date. It's a very interesting storyline.
What other projects are you working on this year?
2011 has brought about a drink of which I am to become the brand face. The drink is called Vita 500. There are other things here and there. I am also trying to build up my charity home. I don't really want to talk about that yet because I have been on that for long but now I really want to concentrate on doing that and it is almost ready.
Almost all Nollywood acts are going into producing and directing, what is the reason for this?
In everything that you do, you do not want to remain static; you want to explore other areas and you want to do other things especially in entertainment. If you are an actor or an actress, you will like to diversify. What I do not like and which hasn't really work is if you are an actor you suddenly turn a musician. That gets me worried. It is always easier for the musician to become an actor or an actress. It is easier that way if you check through the track record of people who are swinging both ways. Their first love is usually music then they will come into becoming actors, not an actor or actress suddenly going into music. I did not plan to become a producer but as I grow older, as I begin to mature in the business, I cannot continue to act these sassy roles anymore. Come on, I am getting older, it's either I do other things or I go behind the scene or I do very few of the acting roles and let the young ones grow and not to compete with them.
What has been an actress thrown on or removed from your table?
It has thrown a lot of goodies really. Becoming a celebrity, by the grace of God, has opened lots of doors for me. It has made me more aware of myself. A lot of people might not say this but I know that I have discovered a lot about myself. It amazes me when you find out that some movies that you have acted in the past have somehow touched somebody's life and have changed the person's life completely. It is exciting and you want to do more. It has really opened doors, people call me from abroad and want me to do some endorsements for them; people want you to grace their events. Again, you find out that children also want to associate with you. It's true nobody wants to associate with a failure, so kids want to be with me. What it has taken away from me is the fact that people have refused to separate the act from the person. They just feel that what you are on screen is what you are in real life. It is quite disturbing. And they throw it to your face. Nigerians are very perceptive. It is worrisome but as you grow older and you mature in the business, you just take it and move on.
Some fans think you do not show enough skin in movies. Is that about morals?
The truth is that my person has nothing to do with my profession. I am morally grounded and I do not like to reveal too much or show too much skin. I even try to show some legs. I can really be a bad girl in a movie without revealing too much. I can do a lot of romantic scenes and kisses without really kissing or touching. I just create that intensive atmosphere of romance without really feeling it because it is a business; it is a profession. What else do people want to see? They have seen my legs. They have seen my chest and my back. I cannot go out there and put my tits on the screen for everyone to see. Again, we are Africans and Nigerians. There are certain things that work abroad that don't work here.
What about your childhood? From your complexion, your peers probably referred to you as 'yellow pawpaw'
Not really. My childhood was fantastic really. We were not extremely rich but we were provided for. Everything that we really needed was provided for us. My dad spoilt us but my mother was the strong one. I had everything going on but as I grew older, a lot of those privileges were taken away from me because I am the first child and I have to show examples to my younger ones. I was brought up in a very strict way compared to my siblings.
Were there things your mum did to you then that made you think she hated you?
Oh yes. I love those things right now I love them but I just could not stand them back then. The way she was bringing me up, I thought she was going to kill me at some point but now it has paid off. I really do appreciate her for that. My daddy is late. I miss him so much because he was a softer person but she struck that balance. Not too spoilt, not too strict but we knew where we are headed. My mother made sure she put you on the right track of how you would present yourself to the society when you grow up. 'Don't forget where you are coming from, don't forget home,' she told us. We were brought up in a very strict Christian background and we grew with that.
Are you bringing up your daughter that way?
Yes, I am trying so hard as a single parent, it's not easy but I am trying so hard. Then again, you have to know that times have changed. It is not like before that we were brought up. Even if you try to curtail the things your child does at home, when she goes to school what does she do? So you just keep teaching and talking to her as she grows older.
Is being a single parent difficult?
Yes and no. It's difficult in the sense that I have to do a lot of things by myself. But I absolutely enjoy the freedom.
So you would not want to talk about your ex-husband's new marriage?
No, this is my interview; I don't want to talk about someone else.
Are male admirers still looking in your direction?
I will be lying if I say no. I try to be nice, knowing that I know what I am looking for.
Are you in any relationship already or you are still thinking of going into one soon?
Why won't I want to be in a relationship? Am I not a human being? Naturally, I would want to be in a relationship but I don't need to rush into any.
You have also lost weight, are you trying to change your look?
Image is everything. As a celebrity, you don't need to look bulky. I don't like it when people just try to make excuses, like I have a baby and all that but the baby is growing old and what are you doing to yourself. I am done having babies for now, so why the fat? A lot of people did not like me being big, that is just the truth. I needed to please my fans and I needed to look good and I had to lose weight. I am not there yet; I am still working on the weight.