PRIVATE PLACEMENT, PUBLIC DISPLAY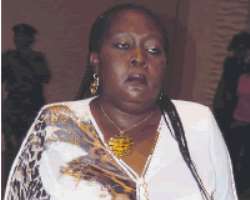 Haba!
Mummy, we think you should know better than wearing white underwear with white dress. Haba! This is a terrible fashion abuse and you are hereby found guilty. Since you are a first time offender, you will be placed on style probation and you are to attend two hours of style and trend education everyday.
Water colour, droopy things
Grandma, we hate it so much when your things are sticking out like this, especially when they have reached drooping age. We don't blame them, after long years of active service they are long overdue for retirement. However, this colour separation you call make-up… na wa o! With all due respect, mumsie, your total look
is whacked. You are to pay
a fine of N5 million.


 
 


 
 
Metallic no-no
There is no doubt about it, wearing a metallic dress is trendy; but what's wrong is when you came all out in all the colours of the rainbow. If we were warned earlier about flashlights and stuffs like that, we would have treaded softly. But it seems you forgot what Section 452 of the 1980 constitution says about metallic colours. It says: 'Do not complicate the look by wearing too many accessories, or you'll end up looking like a mobile streetlight. Simple is the name of the game with metallic colours. Let the dress be
the focus.' For making our lives
miserable, you are mandated
to pay a fine of
N6.5 million.


 
Aunty!
We know you are still in active service, but you don't have to rub our faces in it. Please, you need to give room to upcoming chics, because no matter how hard you try, the clock is ticking very fast. Next time get those balloons wrapped up. Our final judgment: Trash! With all the authority bestowed on this court of law, you are fined N7.5
million.


 
 
We need straws here!
There is no doubt that those bouncing castles need special recognition. No wonder one of the witnesses told us he was tempted to get a straw because he thought it was a cocktail served on a table. But unfortunately, our efficient fashion police picked you up. Goldie, there's nothing flattering about this and we think that as a role model to our teenage daughters, you should slow down. You are fined N6 million plus 500 hours of community service.


 
 
Immoral code
The last time we checked the moral code, it has not been amended and we see no reason why you should be dressed like this. An expose of your milk factory in a public place is an abuse of the law. You are hereby sentenced to 308 months at Ilale in Sokoto State and you would be mandated to milk the cows with the women. This sentence
will run concurrently.