KIMBERLY ELISE TIED IN A BIND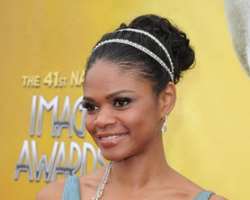 Also starring Ama K Aberese, Omotola Ekeinde, Randall Batinkoff, David Dontoh, John Dumelo and Prince David Osei.
Hollywood star Kimberly Elise arrived at the Kotoka International airport on Friday to commence work on Leila Djansi's blockbuster in the making Ties That Bind. The multi million dollar movie which Leila describes as her biggest project yet stars Nollywoods Omotola Ekeinde, British Ghanian Ama K Abebrese, Hollywood star Randal Batinkoff and Ebbe Bassey. Other billed stars include John Dumelo, David Dontoh, Prince David Osei and a host of other cameo appearances.
Ties that Bind is the story of Adobea, Buki and Theres, three women from different walks of life bound together by a similar pain; the loss of a child. In a destined meeting, in a small village in Kroboland, the women journey together to redemption, love, life and forgiveness as they renovate a dilapidated clinic for the villagers.
Kimberly Elise Trammel is a box office success story who usually stars alongside Denzel Washington; John Q, Manchurian Candidate, Great Debaters and has also played alongside the Tv Mogul Oprah Winfrey in the movie Beloved. Probably best known for her two movies "set it off" and Tyler Perrys Diary of a Mad Black woman, Kimberly Elise replaces Nia Long in the movie.
The movies director said returning the role to Kimberly Elise who was the first choice for the role of Theresa Harper is the best decision she has ever made. Asked whether she will eventually work with Nia, she responded in the affirmative saying she thought it best to bring Kimberly for Ties That Bind and work with Nia on another project which shoots in December. She quickly added that Nia Long was never officially on the project since both parties were still working out dates and schedules after the initial acceptance.
"I was surprised to see press releases of Nia Long all over the place. My publicist was upset but we let it ride. Sorry to disappoint Nia's fans but a more suited actress has the role and we are very happy with that. We could still have made Nia happen but many reasons influenced our decision"
Kimberly Elise is best described as one of the best actresses to come out of Hollywood and this is proven by the many accolades she has won to include Most Outstanding Actress at the just ended NAACP awards for the movie "For Colored Girls".
This is to wishing the production the best of luck. Nollywoodgists.com promises exclusive first hand photos of the film next week. Watch this space.