SD FASHION SPOTLIGHT: GENEVIEVE NNAJI AND NIKE OSINOWO-SOLEYE TALK FASHION?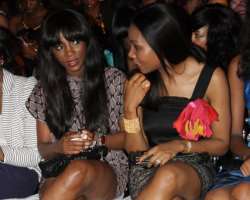 Stylish Duo, Genevieve Nnaji and Nike Osinowo-Soleye were spotted together at the Arise Fashion Week.I wonder what they were talking about...A 'fashion revolution' maybe..Louis vuitton takeover, Gucci ambush, Jimmy choo arrest, Louboutin tango...Who knows? But today as I'm in the mood to talk 'shoes'... hee! hee!
Warning: When it comes to Genevieve and Nike Osinowo-Soleye I confess it's love all the way....