ATTITUDE ROCKS WITH STREET CRY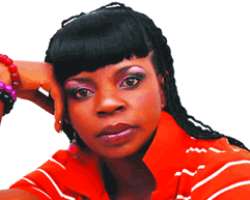 Emerging female rap sensation, Attitude, has dropped another string of singles as she finalizes plans for the launch of her long-awaited debut album, entitled, Still In Da Game. Since the release of the single, which featured producer - cum - artiste, Jonah De Monarch, the Cross River State-born female rapper had been enjoying rave reviews in both print and electronic media.
Her latest string of singles which include, Street Cry, Some Attitude and Hope for Living, are gradually penetrating the airwaves too, with plaudits for the singer. She's equally working towards unveiling the videos of Street Cry and Hope for Living, very soon.
Although, no date had been announced for the release of her debut album, which is scheduled to be out on iRoom Entertainment, a new entrant into the industry, it is expected that the album would be a hit.
The soft-spoken rapper is also a songwriter and had worked with great producers in the music industry.
Before going solo, the rap prodigy used to be a member of a hip-hop movement called Game.
'I have come to take my deserved place in the entertainment industry and contribute my quota too, she added'