BANKOLE RAPS SENATE FOR CLOSURE OF OGUN ASSEMBLY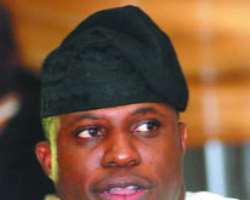 Speaker of the House of Representatives, Mr. Dimeji Bankole has blamed the Senate for the continued closure of the state House of Assembly. He said the refusal of the Upper House to pass a concurrent resolution as done by his leadership was responsible for the logjam in the state legislative House.
Bankole who spoke during an interactive session with journalists in Ogun State tagged 'An evening with Mr. Speaker, Rt. Hon. Dimeji Sabur Bankole,' recalled the several impeachment plots against him in the House. He described them as storm in a tea cup. Fielding questions at the Ogun State council of the Nigeria Union Journalists, Bankole said at no time was any motion raised on the floor to remove him.
'I am not aware of any motion moved on the floor of the House to impeach the Speaker of the House of Representatives. If you have one please show me. But I am aware that gentlemen like you made sorts of reports based on information you must have got, either from the House or otherwise,' he said. The Speaker attributed the refusal of the Senate to pass a concurrent resolution as done by the House of Representatives as one of the reasons the crisis in the state remains unresolved.
According to him, the House did its best to resolve the crises in Ogun as well as in Ondo and Edo State. 'It was not only Ogun Assembly; Edo and Ondo states also had similar problems and we passed resolutions.  But if the Senate does not conform with that of our resolution, that resolution may not have the effect of law.
'Although it is my job and that of the several others of members of the House to legislate for the country, it is not our responsibilities to execute.'
The Speaker who also used the platform to comment on the allegations that the budget of the House was outrageous.
He told the gathering that the National Assembly had made history as one out of many assemblies in the past that had made the Executive arm of government accountable and transparent.
'We have made executive accountable and transparent. In the past four budgets that I presided over, we have saved for the country a huge sum of money that could be used else where for the development of the country,' he said.
'Like people have been saying, we may have recorded achievements, but let me tell you that it was not a sole efforts of Mr. Speaker, but a collective efforts of members of the House.'