AGN Crisis. Emeka Ike Loses Again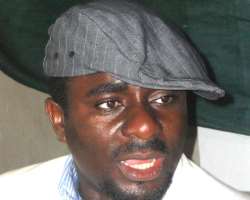 Today would have been celebration galore for most fans of Emeka Ike that stormed the Federal High court premises for the final verdict on who the authentic AGN president really is but that didn't come to be as the judge again strike out the case on technical grounds.
A disappointed Emeka Ike definitely not happy with the judge's decision left the court premises in annoyance and when he came out to his fans, he told them in these words " You guys should wait as i have been asked to go get some document and will be back in not less than 1 hour". This didn't happen as several hours later Emeka Ike the Maradona never showed up and calls to his mobile phone by some of his fans were returned unanswered. Well the bottom line is that Segun Arinze who is the AGN president the Industry knows is still in charge and will still be for a very long time to come. Is there hope for Emeka Ike in this legal battle? Some people say why is he not concentrating his energy on the growth of his private school and many other businesses? Why AGN; what is it that is not done right at the Guild that he wants to fix? Well over to you o my brother from another mother. We were told that the AGN president Segun Arinze or his lawyer were not at the sitting.