WHY MERGERS AND ACQUISITIONS REMAIN INEVITABLE IN BUSINESS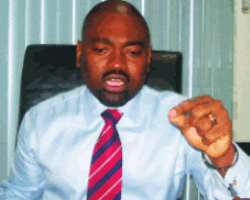 Tejumola
Until two months ago, Adeola Tejumola was the CEO of the Research and Marketing Services Limited (RMS), but that status changed with a merger deal that allowed TNS, an international research firm operating in 80 countries, to take over a majority stake in RMS, the Lagos-headquartered Nigerian company.
Tejumola was subsequently announced the new Group CEO of TNS/RMS, the new adopted name for the merged firms. In that capacity, he now supervises operations in West, East, and Central Africa for the new company.
Why did the Nigerian firm that was seen by many to be flourishing and even expanding and making an in-road into the West African Market allow itself to be bought over by a multinational? This is one question many analysts have been asking since the deal was sealed about a month ago, and announced in London. 'From the outset, we had a vision to play in the global market,' said Tejumola. 'And when you have such a vision you don't sit down in one place or restrict yourself to just one country; you reach out,' Tejumola told Daily Sun in an exclusive interview conducted in his Lagos office.
The decision to allow TNS buy-into RMS, Tejumola said, was a 'reach-out' deal that fulfills a long-held dream of establishing RMS as a global player in the research industry. The CEO of the merged company said beyond the fulfillment of that vision, there were also lots of other advantages inherent in the deal. The advantages are not just limited to greater skills and knowledge for the workforce, quality services to clients but, also, the Nigerian economy stands to benefit a lot, he said.
Tejumola, who is our CEO for this week, speaks on why many business establishments globally continue to merge or offer themselves up to be acquired. He elucidates more on why Nigerian entrepreneurs and business owners should discard the one-man business mentality. Tejumola also spoke on the Nigerian economy.
Excerpts:
The Nigerian economy
Democracy has provided a stable environment for businesses to thrive and that has to be acknowledged. But I will be so interested to see more revival in the economy. The truth of the matter is that there is still a lot to be done with our economy. The most important issue that we need to tackle is that state of our infrastructure. If I want to list the key infrastructure that we need to fix, number one will be energy, number two will be energy and number three will be energy.
By that listing I am trying to emphasize the need or importance of energy, stable electricity, uninterrupted distribution of petroleum products, alternative sources of energy to nation building. No nation grows without these things I have listed because they provide the pivot through which the economy revolves. The potentials of the Nigerian economy has been highly hampered from blossoming because of the challenges we are having in the energy industry. Fix that problem and you will be impressed with the level of growth the economy will witness. With energy, you will increase productivity, you will increase the lifelines of the manufacturing firms, and you will increase employment generation.
A recent survey we conducted showed that though corruption is still identified by all as the main national problem (65 per cent), respondents seem to believe the nation is making some sort of progress as lesser number cited it ( cited by 71 per cent during June's wave). However, crime and breakdown of Rule of Law, gained mention among Nigerians.
While speaking on the polling methodology, Tejumola explained that survey was conducted amongst 5,000 18+ years old eligible Nigerians; living in all states of the federation and the Federal Capital City. Full multi stage random sampling field method was employed to select respondents thus preventing statistical bias.
No end in sight to mergers
The inherent advantages in business deals where companies are merging or are being acquired by others cannot be underestimated. Put differently, mergers and acquisitions come with such merits that they become so inevitable in contemporary times as they were in the past.
The advantages or merits can be appreciated better if in a simple man's language you define mergers for instance as the coming together of two or three or more different business establishments under such circumstances where all the parties bring in their diverse strengths in human expertise, finance, markets etc and all these strengths are harmonized into the formation of just one company. If you look at it from such a simple definition, then you will be in a better position not to underestimate the advantages in mergers and acquisitions. When this happens, the ultimate beneficiary is usually the clients - the consumers or customers. Merger deals allow the new company formed to deliver what I call best results to clients.
In economic terms what companies who merge do is simply so that they can gain economics of scale. All what I have said is just in a lay man's term. But when you look at what is happening in the world right now, there are a lot of factors that makes mergers an imperative step some companies must take to survive. From the oil and gas sector, to telecommunications, banking, insurance, manufacturing, etc companies are merging, growing bigger and stronger and adding more value to customers.
About the TNS/RMS merger
Take the TNS RMS merger for an example. RMS was established in Lagos in 1980 as a full service research agency to service such sectors as consumer goods, finance, telecoms, media and social establishments. In the last 30 years it has made an inroad from Lagos into other African countries like Kenya, Ghana, Senegal, Cameroon and Ivory Coast.
We have been number one research firm in Nigeria for several years, but we realised our limitations because we needed to expand the market. We have a strong knowledge of the African market - with a strong clientele and workforce. But then, we needed to spread out and capture more markets outside Africa. We wanted to be a player in the global market. And for us to do this we required a more sophisticated firm with a global outreach or network and we found this in TNS, a firm with a global clientele and of international standard and reputation. TNS has the history of best practices, they have the technology that we didn't really have, they have the workforce required to play in the international market, and they come with a renewed culture of corporate governance. But let me go into a more detailed description of the company we are merging with.
TNS is the global leader in custom market research which delivers what I call actionable insights and research-based business advice to clients around the globe so they can make more effective business decisions. TNS offers comprehensive industry knowledge within the consumer, technology, finance, automotive and political and social sectors. They specialize in product development and innovation, brand and communication, stakeholder management, retail and shopper. TNS understands the latest marketing challenges and research techniques being the first to discover and solve new marketing issues for clients.
They operate in more than 80 countries. And I tell with the deal concluded, we can leverage on this advantages and pursue our aspirations and set targets of being in the global market. I also tell you, with this new company formed, we can now service clients beyond Africa; we can now be in Asia, Europe, Latin America etc. That's the advantages. The truth is that in some business enterprise, if you need to survive in that business in the next fifty years or more, it will be extremely difficult to do so if you are holed up in one tiny corner of the world while others are busy expanding and capturing more markets. You need to open up and allow others with more financial muscles, experienced human capital, the requisite technology, and the market and reputation to be part of your business either through mergers or acquisitions. The era of one man show is fast disappearing, especially if you want to be a global player.
Advantages for the Nigerian economy
What we intend to do with the new company is to draw greater awareness to the benefits of research in Nigeria. We want to educate and enlighten the Nigerian market more on the advantages of using research results for the planning of their businesses or programmes and this applied to both public and private enterprises.
If you look at the multinationals doing business in Nigeria, you realise that they have a culture of researching into whatever project that want to embark on to know if it is viable or not.
Not so with our local firms. The multinationals come with that culture from their home countries. But in our country, only very few of the firms realise the potentials in research and market survey. So for the local market, we are so interested in raising awareness on the benefits of using scientific results from researches so that you are in a better position to making sound judgments.
The deal will allow us to only be sending results to people and to preach also that one of the key things that comes with research is capacity building. We want to raise the knowledge of our people so that they are conscious of how things are operated in the developed countries and what makes them unique and successful and prosperous. And how reseach have been sold and utilised to prosper similar emerging markets. We want our people to know the basics before sinking money into a venture so that we don't continue in a culture of waste.
People who want to invest in a business must know the intricacies of what the market requires and where that market exists, so that they don't just start and close shops after a couple of months because they never knew exactly the basic factors that can ensure the survival of that business. We want to end the culture of wuruwuru to the finish!
I am not going to be naïve to say that the merger we have contracted in itself is automatically going to increase the implementation of research among indigenous firms in the country. But I know that with time we are going to make a lot of impact on the local firms in this area. We are better positioned to sell research to the local businesses and to educate them on how to make use of it.
Public sector and research utilisation
It will even interest you to know that some highly placed government establishments and policy makers are making use of the research that we conduct right now. A clear case is that of the government of Lagos state. It is very important for the public sector to make use of researches in their planning and execution of programmes for the people. It is very risky and disadvantageous to plan in the dark; a situation where people sit down and just guess what should be done and then they go ahead to execute it, especially in situations of very limited resources. And the resources in the public sector can never be seen to be so abundant.
In fact it is only in the public sector that you have what we can say is scarce resources. So why would I have a budget of N30billion, and because I do not understand the immediate needs of my people I will go ahead and spend N20billion building a stadium for them. This is a typical case where research comes in because if I go out to sample their opinion, I may find out that what is of topmost importance to them is stable electricity which I can spend N10billion to execute and keep them active and happy.
So what research will do to the public sector is not only of advantage to the public sector but also to individual citizens because the priorities are right. It also helps the government to allocate the limited resources it has to what if of paramount importance to the citizens. It should be a subject of concern if any government plans without a data from research. Indeed, it is very disturbing when the use of research is not fully embraced in a country like ours as it is done in the developed economies and even in the developing ones. But I know that the trend is beginning to improve.
On our part we do offer our services free at times to government where the need arises on infrastructural problems. We are a gallop agency and when we read in the newspaper that such a huge amount is invested in a particular project yet without any tangible result, it is something that should worry anybody. So we try to find out: is it worth the investment? Is the money being well spent? Is it targeted at the right project? Is this really what the people need?
We try to find out very vital things like: are you building schools in place where houses should be built, like in areas populated by aged people? Is that particular project sited at the right demography? Are you building houses where you should be erecting schools? So the life of a research is not only tantamount to the waste of resources, but it enhances your ability to understand that for you to deliver best results you need to understand the mindset of the people first.
How reliable are these researches?
Talking about the reliability of research institutes, I often tell people that those who doubt the data or results of research are ignorant of the things – the inputs – that go into these researches. The awareness is not so much. They don't know the methodology adopted. Honestly, the Nigerian research industry is growing more than people think. It has grown in terms of the innovation and professionalism.
We put in a lot of quality assurance into the things that we do. This is all what we have to do; and we do it with all our zeal and best practices. You think it is a case of rubbish-in-rubbish-out? If you do that it is easily detected because the results will be controversial or questionable. For us we do ensure 100 per cent quality assurance on what we do.
But that does not mean the results must be positive because positive is very relative in our industry.