Policemen beat D'Lectura black and blue...•This is injustice -D' Lectura •He was not beaten -Police PRO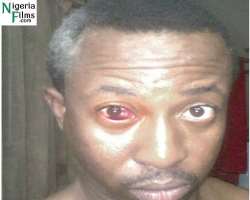 If the Reverend Father that sent Emmanuel Adigwe, the ace stand up comedian popularly known as De lecturer, on an errand had foreseen the evil lurking around for the young humour merchant, the man of God would have warned him against any confrontation with the police. Unfortunately, D' Lectura was a victim of police brutality on Monday March 14, 2011, as he was severely battered over an issue that has attracted more questions than answers.
Narrating his ordeal in the hands of the policemen, the acclaimed Aku 1 of Akute said, "That day, I and my Revered Father just came back from UNILAG, where I went to anchor the 50th birthday anniversary of a Professor. My Rev. Father, who lives in Bariga, pleaded with me to use his car to drop an accident victim in his Akute residence.While I was going back, I missed my way in Gbagada. And as I was trying to locate the Mobil Filling Station in the area, I met a traffic warden, who directed me. But I never knew it was a wrong description. I saw a police check point ahead, so I drove towards them in order to ask for directions. Surprisingly, I was told to park and accused of taking one-way. I tried to explain myself to one of them, named Peter, but he refused to hear me out. He then seized my drivers' license. Fortunately, my Rev. Father called to know my location, and when I told him about my situation, he told me to wait there for him.
All of a sudden, the policemen entered the car and asked me to drive. I now asked them, ''Where are we going''? I was told to shut up and drive. I begged them that the owner of the car would soon be there. That was when I was handcuffed and five of them started beating me like a common thief. I was beaten and rough-handled for close to thirty minutes before the priest arrived. On getting to Pedro police station, the DPO in charge, Isaiah Ohinze Lawal (SP) ordered them to remove the handcuff. Interestingly the DPO and his boys now turned the issue against me, claiming that I was fighting the police officers and as at that time, the Professor, who I went to anchor his birthday party and two other Priests were there. They now asked, 'How is it possible for one person to fight five armed police men?
It was the new PRO of Lagos Police Command, who called and asked them to release me. I am presently talking to my lawyer to press charges. This is injustice," D' Lectura cried. To get the police side of story, SS called DSP Samuel Jinadu, the PRO of Lagos State Police Command on phone. The police spokesman claimed "He was not beaten up. You mean, D' Lectura? He was not beaten, I spoke with the DPO and the guy, and as at now, there is no problem. I do not know why you want to exaggerate the whole thing. Where was he beaten up? Tell the guy to call me." Obviously, the police image maker was not well briefed on the issue. Or can the above picture lie?