Hilda Dokubo opens up on bomb scare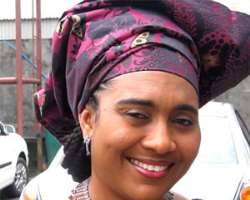 Nollywood actress, Hilda Dokubo has expressed gratitude to God for using her to save the lives of the 98 Nigerians who boarded a Lagos bound Arik aircraft in Port-Harcourt, last Wednesday from being blasted away by bomb.
Still recovering from the shock and trauma she suffered following the ugly incident, Dokubo said " I'm grateful to God for saving our lives."
Dokubo who revealed that she'd hardly taken her seat in the aircraft owned by Arik Airline when she got a call, alerting her that a bomb had been planted on the airplane.
Terrified, traumatised" and shaken, she sais she hurriedly informed the airline authorities as well as invited the security agents at the Port-Harcourt International Airport over the bomb scare.
Narrating her experience to Showtime on telephone, Dokubo said "I got a call from somebody, whom I do not know and whom I've never met. He asked me to leave the aircraft immediately, that everybody in the aircraft will die.
We had a lot of children in the aircraft. I was terrified, traumatised and shaken. He told me that because I was in that aircraft they cannot carry out the operation. I must disembark from the aircraft immediately."
"At that point, I took the phone to the Station Manager of Arik Air, who was at the foot of the aircraft, who continued to discuss with my caller, and later contacted the pilot and the security agents at the Airport."
"later I got another call from an SSS officer in Port Harcourt, congratulating me that the bomber was later arrested in Abuja, through radar.'
"The flight was scheduled for 7:50 am, before everybody was asked to disembark. I was going to Lagos for a meeting between 9am and 12 noon, but we stayed at the airport for four hours.
I felt it would not make sense to still head for Lagos at that time, when the meeting would have been over. I later joined Arik Air to Abuja.
"It is wicked to attempt to bomb a plane occupied mostly by children. All I did was to save the lives of 98 passengers on board. I thank God for using me to save the lives of these Nigerians who have been killed unnecessarily.