What love means to me-----Shan George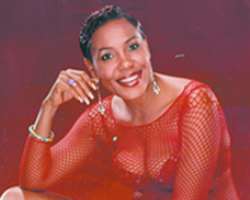 Shan George is surely an enigma. To some people, she is the talented and bold actress that has held us all spellbound with her performances in Outkast, Blood Diamond and Odd Number, while to others, the Cross River State-born mother of two is fast passing her prime.
"She rarely gets called up to locations", a close watcher of the industry told us. But to Shan, who holds a diploma in Mass Communication from the University of Lagos, change is the only constant thing in life, and she is just stepping up to the next level. And as a way of stepping up, she set up Shandel Productions, a company that focuses on movie production and entertainment promotion.
The company later came up with T36 reality show, which was endorsed by the Federal Government. And just when some people thought she was past her prime, she dropped a musical album. Surely, Shan still has a lot to offer. The fact that her two kids, whom she gave birth to during her first marriage, are now in the university is not slowing her down. She stole 10 minutes out of location time to speak with SAMUEL OLATUNJI on her career and love.
It is surprising that you are on set, it's being a while that I've seen you in new movies.
That is because in recent times I've been more into production than acting. For the past three years I've been into movie production.
But acting pays more than production?
Yes, but it is a career growth for me. I will call it my stepping to the next level. It is just a natural thing in every profession.
But your movie has not been as popular as the Shan George's brand.
The movies come out with different names, not that of Shan George. It is only normal for the movie to go into the market like every other movie.
But do you get to sell enough of them?
The sales are very okay, and I am still earning a living.
Which gives you greatest fulfillment, acting or production?
Like I said, it is career growth for me. You grow from one step to the other. They are both fulfilling.
But people say it is because you no longer get invitation to locations that you decided to veer into production.
Everybody has got his or her own opinion, and the fact that they have opinion does not make it right. I just finished Wale Adenuga's Super Story a month ago.
What was your experience like on the set of Super Story?
Shooting soaps take longer time. Super Story took us over a month. There was a lot of professionalism involved and I played different role from what I've been used to.
Is it true you were well paid?
Yes o. Trust Wale Adenuga to pay you handsomely. I was even paid cash. He doesn't give you cheque that would bounce.
Tell me about the new movie you are shooting.
I don't want to divulge much about it now. The only thing I can tell you is that I wrote the script.
I heard you are finding an excuse to stop your reality TV show?
We started the reality show sometime last year and we got Federal Government endorsement for it. After our promo and initial entries, we short-listed about 350 people from different parts of Nigeria. We did the final screening and got our 12 finalists in November last year. We are putting the programme on hold because it has to do with visiting the 36 states of the federation.
We have a Federal Government endorsement, which enables us to meet the governor of each state we visit. By February, we had written letters to all the governors, but it was also at that time that election petition tribunal issues were coming up and some of the governors were affected. So, we decided to put it on hold until when the political arena is stabilized. So, for now, the only thing we are waiting for is for the political environment to stabilize.
What would the winner get?
We will tour Nigeria's six geo-political zones and begin to drop people along the line. When we finish from one geo-political zone, we shall have what looks like a test and the two people with the lowest mark would be dropped. The winner would win a million naira, the first runner-up would get N500 000.
Don't you think the attempted fraud controversy could affect the image of the project?
I don't se how that would damage the show's image since the fraud had been detected. When I found out about the fraudulent activity, I mentioned the major suspect's name to the police and the matter is still being investigated. From the statement he gave at the police station, he has already admitted wrong and he is asking for forgiveness.
Why is Momoh (her ex-boyfriend) joining issues with you in the press?
I honestly don't think I am the right person to ask that question.
What are your two kids up to now?
They are both in the university. They are doing very fine.
How old are they now?
Please let's leave my kids out of this now.
You have kids who are already in the university yet you still ooze sex appeal, how do you do it?
I don't know how to answer that question. Anyway thank you for the compliment.
What does love means to you?
Love is a feeling you feel when you feel you are going to feel a feeling you have never felt before.
Have you falling in genuine love before?
I don't want to answer that question.