OBASANJO HAS NO CONSCIENCE -OGD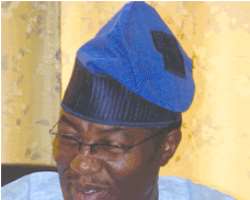 Ogun State Governor, Otunba Gbenga Daniel, yesterday took a swipe at former President Olusegun Obasanjo, saying, he could not claim to be the conscience of the nation.
The embattled governor said the Peoples Democratic Party (PDP) Board of Trustees chairman 'has no conscience at all.'
Daniel, who spoke yesterday in Abeokuta, during a programme tagged: 'Congress of Gratitude: A festival of appreciation by secondary school teachers in Ogun State, a summary of the impacts of the OGD years in the education sector,' apparently, was reacting to a warning by the state PDP governorship candidate, General Tunji Olurin (retd), that he (Daniel) should stop his reckless spending of the state funds or risk going to jail.
Olurin told party supporters during the flag-off of his campaign at Ilaro, in Yewaland on Wednesday, that any move by Daniel, to run the Peoples Party of Nigeria (PPN) with state funds would lead him (Daniel) to jail. But in a swift reaction, Daniel, quoting William Shakespeare's Macbeth, captured recent statements credited to the former president, and Olurin thus: 'It is a tale told by an idiot, full of sound and fury, signifying nothing.'
The unfolding scenario, however, were indications that the supposed truce between the Obasanjo camp, and that of the state governor, was not only fragile, but heading for collapse.
With that, the battle line may have been drawn again between the two PDP factions, in the race for the Government House, in the April election.
Daily Sun exclusively gathered that there was a grand plan to stop the PPN governorship candidate, Gboyega Nasiru Isiaka, through a court injunction or resort to kidnapping out of desperation.
A source, quoted a PDP big gun as saying 'it would be a total disgrace if the PDP fails to deliver Ogun State without OGD, since PPN has refused to return to the PDP.'
Governor Daniel has, however, vowed to remain resolute till the last day of his administration, admitting that his government had been battling with challenges in the last three years. He assured the teachers across the three senatorial districts of the state that no amount of intimidation or threat would make him waiver from his stand.
'There is no doubt that there was a lot of thunderstorm in Ogun State. Not many people believed that we are going to be here till today. Even, as I stand before you, those people are not relenting.
'Let me assure you that your governor OGD is standing firm and let me assure you that I will stand firm till the last day,' he said. The outgoing governor said that his administration through 'thick' and 'thin' had made history and had brought out it best through its programmes and policies.
'We've created legacies that nobody can change in Ogun. Whether people like it or not, we have brought out the best in everything that we have touched. We have brought out the best in education. As you aware, in the last few years, we have employed 10,000 teachers in secondary schools alone. I am not aware of any state, in this country that has been able to do this in this country in the last eight years. If that state exists, I like to be challenged. We have created legacies that nobody can change,' he said.
The governor said some 'undertakers' were fighting tooth and nail to hijack his government.
'The undertakers have come. By the special grace of God their coffin will have no body. When they speak in public, they speak from the perspective of what they have done and the way they are doing things.'