WHALE MOUTH GRABS THE JOKER @ TERRA GRAND PRIZE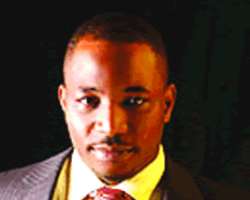 •Tee A
The newest talent hunt initiative in town, The Joker at Terra entered its second series recently with comedian, Whale Mouth, walking home with the grand prize of N50, 000. The show which took place at Terra Kulture, Lagos, one of Nigeria's foremost cultural centres, witnessed a keen contest among the 19 contestants.
After the initial networking and the razzmatazz that greeted the red carpet reception, the show began with so much fun.
The quartet of Ajibade, Elenu, Ushbebe and Seyilaw, beautifully anchored different segments of the show, to the admiration of the audience.
At the maiden edition of the show, contestants were thrown off balance when the organisers threw in a different slant to the competition. The contestants were asked to pick from a bag of topics. That way, they got to tell a joke on any topic that came their way. The freestyle jokes served as a test to the comedy skills of the contestants as it set them hard at their tasks.
This month, however, in addition to the dip, the up and coming acts were set hard at their tasks when they were asked to render comedy in English language. This new slant threw the acts off balance as only a few of the 19 acts survived the task.
According to Darlington Abuda, Managing Director of Peekaboo Global Consulting, organisers of the comedy club cum talent hunt, the event was designed out of the need to satisfy the yearnings of upwardly mobile Nigerians for an event that effectively combines wholesome entertainment with a qualitative networking environment.
He added that the show seeks to correct the dearth in the development of budding comedians that the comedy industry has suffered as there had hitherto been no consistent talent hunt show. The organisers, he said, also seeks to nurture winners into stardom via effective projection of their talents to would-be clients.
Like the maiden edition, the amateur hour was organised to give the audience an opportunity to win a HP printer. Also, in a lucky dip that preceded the show, members of the audience went home with four HP colour printers, several cartons of Milan Juice and an HP laptop bag.
Abuda noted that the monthly event which is currently supported by Terra Kulture and AY TV, Milan Juice, HP and Smoke House will invariably translate into a mini 'Industry Nite' as a gathering of young professionals and entrepreneurs from various industries. He called for more sponsorships and partnerships, especially from corporate bodies, to help move the show forward.