ODDS AGAINST PDP AND JONATHAN INCREASING BY THE DAY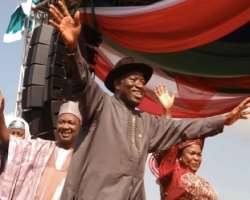 No matter the angle one looks at it, Jonathan should be pitied for venturing into the 2011 presidential race. It would have paid him and all if he ignored the voices of sycophants and greedy minds and position self for another two-term of eight years possible from 2015. Had he adhered to his party's constitution, he would have been in that good position. He has now made mince meat of any minority hoping to be Nigerian president in any foreseeable future.
The greed and sentiments that has brought him thus are now turning his albatross. There are double-speaks other albatrosses: Leaning on Obasanjo has worsened his struggle. There are other instances too numerous to mention here but few are: His bad economic pronouncements, for example, unbanning importation of toothpicks, bottled water, 15-year old vehicles, textiles, etc; the banning and unbanning of Nigeria from international football; absolving the MEND while at the same time prosecuting the MEND boss and associates for the October 1st bombing. All these are pointers that President Jonathan may be groping. People are now asking: Can Nigeria afford to go through this for the next four years?
Again the carnival-like campaigns by Jonathan/Sambo have continued to be not in PDP's favour. With tangential issues to speak on in almost all the outings other than promises which people are now judging him by many failed issues and renege on promises. Muzzling opposition and general insecurity are also counting against PDP. At Kaduna stadium people walked out on Jonathan. In Nassarawa, his convoy was stoned by the youths. In Port Harcourt he unwittingly remained in agreement with his security aides who locked the gates of the stadium where Akwa Ibom politicians sprayed Naira at the gates leading to loss of many lives; this assumption is now gaining ground because President Jonathan has not bothered to release the outcome of the presidential panel he set up. Jonathan's PDP is losing States, going by what has so far gone on now with rallies like in Akwa Ibom which has proven that the State is now ACN and no more PDP.
The situation in Ogun State is there; forget the window dressing settlement between Obj and OGD. Jonathan's campaign in Yola was greeted with almost an empty stadium. All these are pointers that all is no better with Jonathan and PDP.
Ms. Eno Ntuk, wrote from Uyo, Akwa Ibom.
[email protected]


Disclaimer:

"The views/contents expressed in this article are the sole responsibility of the author(s) and do not necessarily reflect those of The Nigerian Voice. The Nigerian Voice will not be responsible or liable for any inaccurate or incorrect statements contained in this article."
Articles by thewillnigeria.com