STRIP TEASE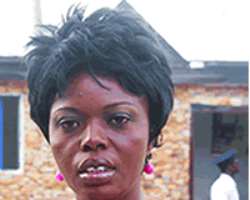 Pinky-winky
Aunty, your pinky-winky colour combination blew our minds when we saw it. The naughty-by-nature bra straps, your overbearing tits posing, got us all confused. How dare you display these scud missiles in public when you know there is bomb scare everywhere?
Experts have told us that this cleavage display shows that you are a public threat. Because we hold our citizens in high esteem, you are to remain in a restricted area for six months under strict surveillance of military personnel. You are also
to pay a fine of N3 million
while in custody.
Strip tease
We were so shocked when you were brought in and accused of wearing your underwear in a public place. Could it be a case of mistaken identity? But we were so surprised when your lawyer argued that you were wearing beachwear. For crying out loud, the exhibit shows that this is a bra. Probably it was a photo-shoot for Victoria Secrets. You are to pay
N3 million fine.


 
.


 
 
Pop it up!
Madam! We are screaming out loud that you don't have to bare your cleavage for everyone in order to show you are relevant. What happens if those untamed pairs suddenly pop out? Do you think it would be their fault? Of course not, because you refused to get them well-guarded. For flouting Section 345 of the Style Act, your tits would remain grounded while you pay
N2 million fine.


 
Open boot
Despite the fact that the Federal Road Safety Commission keeps preaching safety on our roads, my jury can't help wondering why you failed to take precaution about your open boot on the highway. This is alarming, reckless and hazardous to other road users, especially the male specie. For contravening the FRSC
code of conduct, you are
fined N1.5 million.
.


 
 
Cradle robber
Young girl, what was on your mind? Did you actually live home wearing this? We ask you this question because we strongly think you should still be in diapers. We hereby send a court summons to your mother or guardian to appear at the next hearing. But before then you have to pay N700,000 and remain in a juvenile home, nay the crèche section of style
crime prisons.
.


 
 
Big sis
This is so distracting and we won't take it lightly with you, especially when there is crisis in Libya and the demand for our oil would be high. Haba! You should know better than flaunting your oil-rig before every Gaddafi, Mubarak and Ben Ali. It is highly unacceptable in this area of jurisdiction. For flagrantly flouting the law, you are to pay a bail bond
of N2.5 million.