FREE AND FAIR POLLS DOUBTFUL - ONU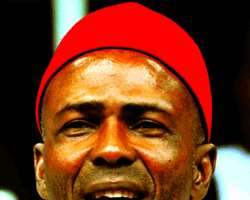 Dr. Ogbonnaya Onu
Few weeks to the general elections, the national chairman of the All Nigeria Peoples Party (ANPP), Dr. Ogbonnaya Onu, has said that the enabling environment that will ensure that votes count and voters treated appropriately is yet to be seen. According to him, there are, indeed, disturbing developments that give cause for genuine worry as we approach the elections, including intimidation and harassment of opposition by the Peoples Democratic Party (PDP).
In this interview, the former governor of old Abia State also lamented the plundering of the nation's resources, particularly since the PDP assumed leadership of the country 12 years ago. He also reiterated his determination to restore the lost glory of the once leading opposition party in the country.
Now, talking about salvaging the dwindling fortunes of the ANPP, Dr. Onu really has a lot of work to do. In 1999, ANPP had nine governors but today it can only boast of three. The problem facing the party is believed to be inept leadership. This is why many are of the belief that Dr. Onu is carrying a weighty load because some of those who constituted the poor leadership are still around and remain firmly rooted within the party.
However, the new helmsman is of the conviction that all hope is not lost and the fortunes of the party could still be turned around before the general elections. To him, a new ANPP is possible and as he has always said, the new ANPP is already on the path to self -discovery.
The extent of leadership decay in the party manifested soon after Onu took over the party about five months ago, when he summoned a meeting of all elected members of the party at all levels across the nation. Sadly and quite interesting though, the national leadership was ignorant of the fact that it had members in the House of Assembly in Oyo, Nasarawa among other states. It was, indeed, a rude shock to everyone at the meeting, when 12 legislators from Oyo State House of Assembly rose up for recognition and complained that that was the first time they would be invited for a meeting of such by the national secretariat in almost eight years that they have been elected into the House.
The disregard for rules and regulations of the party with impunity by members has been the order of the day. While the party was strategizing on how to approach the next elections and win, its members are still hobnobbing with the ruling Peoples Democratic Party (PDP) in the name of Government of National Unity (GNU). The decision by the National Executive Committee (NEC) of the Party that its members in government should pull out had been ignored.
Despite all these, Onu expressed the conviction that ANPP will be redeemed, maintaining that it was on a historic journey. 'A journey of hope, a journey of promise, a journey that will require you all to work with us in a collective effort to make Nigeria better, safer, prosperous, powerful, more peaceful and more united', Onu spoke to Saturday Sun of the plans and chances of the ANPP in the coming general elections.
The nation's wasted endowments
Nigeria deserves the best. She has a rich history. Our dear country is, indeed, unique and has a unique mission. That mission is to be the guiding light that will show the way for many others to follow. At birth, Nigerians were filled with a lot of hope for a bright future. Many looked up to our country to attain greatness of the highest order, for the good of both Nigerians and the rest of the world. Sadly, we have not been able to attain this goal, because for long we have mismanaged our resources.
Earthquakes, volcanic eruptions, hurricanes, wildfires, destructive floods, snow storms are not experienced in our beloved country. We enjoy a unique location. Our population is so large that one out of almost every seven Africans is a Nigerian.
Some few years ago, Nigeria was the largest producer of palm oil in the world. In the past, our groundnut pyramids marked us out as a major and important producer of agricultural produce. Our coal reserves are huge. There is hardly any major solid mineral that is not found in commercial quantities in our dear country. Nigeria has no good reason to be poor.
Twelve years of mismanagement and agony
For 12 agonising years, one political party has misruled our beloved country. For this long length of time, it has been the same tale of woes: broken promises, shattered dreams, incessant power failure, increasing armed robbery and kidnapping, bomb explosions, mass poverty, terrifying hunger and joblessness.
The past 12 years have been very difficult for our dear nation. Many things have gone painfully wrong. Things have gone from bad to worse, which should not be. So much funds found its way into the purse of our dear country in the past twelve years. The prices of crude oil and natural gas reached the highest levels ever in the history of our country. A lot of our public assets were sold within this period, yet it is difficult to show what the revenue realized was used for.
Our economy has sunk beyond imagination. Election rigging has killed the interest of the electorate in voting and substantially reduced their willingness to participate in the electoral process. Youth unemployment has translated into such vices as armed robbery, drug abuse, trafficking in persons, assassination, rape, kidnapping, cyber crime and corruption.
Epileptic energy supply to power our existing industries have resulted in the closure of most of the industries and forced others to relocate to other African countries. This, unfortunately, has made the growth of small and medium scale enterprises virtually impaired. Worse, corruption in high places has reached a scandalous level. It is common knowledge to all that poor infrastructural development has made transportation and communication a difficult task. The breakdown of law and order has promoted insecurity of lives and property just as the falling standard of education has reduced the value of our academic certificates. Many people can no longer defend the certificates they have. Sitting in one's home, certificates can now be bought with money. It is also sad that poor health care delivery has made our health institutions mere consulting clinics thereby forcing those who can afford it to go outside our country to get treatment even for mere common diseases, including catarrh.
The trouble with our country is simply that we have not found people who know what to do to better the lots of our country. We have not had leaders who will put the interest of the nation first and above other considerations. We are yet to find those who truly fear God and realize that power is a public trust held on behalf of the people. Imagine that Nigeria is rich, yet Nigerians are poor. We are yet to have those who are prepared to galvanize and utilize the talents that abound in our dear country to solve many of our problems as a nation. We have not found in good number men and women of good conscience those who treat others fairly and justly; those who not only preach the golden rule but practice it fervently: do unto others what you would want others do unto you.
ANPP to the rescue
For those of us in ANPP, we are determined to show Nigerians that many of the problems that confront our country can be solved. We want Nigerians to realize that we have the power we need, to change those things that we do not like that have happened to us in the past.
The new ANPP believes that regardless of the enormity of the problems confronting us as a nation, we shall overcome. We do not lack the will to do so. We do not lack the men and women who can help us achieve those things which we desire and deserve. And because we care for Nigeria, for a very long time we had begun a search for those patriots in our fold with the qualities that can enable our beloved country rediscover herself and pursue her manifest destiny in the comity of strong, prosperous and powerful democracies of the world.
I am happy to let the world know that at last, indeed at long last, our efforts have yielded fruit as we have found two God fearing wise men who will help us build a New Nigeria of our dream.
They are Mallam Ibrahim Shekarau, the governor of Kano State and Chief John Odigie-Oyegun, former governor of Edo State, our presidential and vice-presidential candidate. As Governor of Kano State, Shekarau has been able to bring peace to a state that used to be a hotbed of violence. In the past eight years that he has served the people, peace has returned to the state, thereby showing an exemplary ability to hold people together irrespective of religious differences. As a consensus builder, Shekarau, has given a strong sense of belonging to all Nigerians resident in Kano State by appointing many non-indigenes of the State into key positions in Government.
It is important to point out that before he became governor, Kano State had serious infrastructural problems, especially in the area of water supply. As soon as he was inaugurated, he was able to find solution to this problem that had confronted the state for a long time.
On the other hand, our Vice-Presidential candidate, Chief Oyegun, a technocrat and seasoned administrator of unblemished record. A man with a wealth of experience, he rose to the highest level in the public service. He has served our beloved country creditably in various strategic ministries and, therefore, knowledgeable about the problems of our dear nation. As governor of Edo state, he touched the lives of many people by solving many problems and addressing various developmental challenges that confronted Edo State during his tenure.
He won the admiration of his people as a result of his passion and devotion to their welfare, happiness and progress. Lastly, this great Nigerian was a freedom fighter for democracy to flourish in our fatherland. When democracy was threatened in our nation a few years ago, he did not keep quiet when it mattered most. He rose up to be counted and fought hard enough for all Nigerians to be free.
ANPP is determined to place Nigeria on the mountain top. We are hungry to win elections. We desire change because we know Nigerians deserve change. We ask Nigerians to give us the opportunity to re-invent Nigeria and return her to the path of renewal and rebirth in a fast changing world.
Dangerous signs towards the election
There are very disturbing developments as we approach the elections. In the past several months, many things are happening that give cause for worry. We see very worrying signs, showing that our democracy could be in danger. Promises made that the forthcoming general elections will be free and fair still remain mere promises.
The enabling environment that will ensure that the vote will count and the voter will matter in the forthcoming elections is yet to be seen.
In Ebonyi state, a recent re-run election into a House of Assembly seat for Ohaozara West constituency shows that all is not well for our democracy. Before and during the re-run election, supporters of our party were harassed, brutalized and intimidated. Gun shots were rapidly and sporadically fired into the thin air with brazen impunity by our opponents. This frightened so many residents and created serious health problems for those who were already faced with the challenge of high blood pressure. Security agents eventually drafted to contain the situation on election day looked the other way as various acts of electoral malpractices were carried out. At the end of the exercise, the electoral process was abused and the true will of the people subverted.
In Zamfara State, members and supporters of our great party have been unlawfully detained on trumped up charges by security agencies. Those who became fed up with the manner they were governed in the state and decided to embrace our great party were persecuted for no just cause. To make matters worse, our party secretariat in the state was completely burnt down by yet to be identified persons.
The situation is not different in Gombe state. The campaign office of our great party's gubernatorial candidate was turned into a battled field, with gunshots fired into the building. It was by the special grace of God that he escaped unhurt. Also, his residence suffered a similar fate.
In Kwara State, only a few days ago, the campaign billboards and other campaign materials of our candidate in the Shawo/Essa/Igboidu State House of Assembly Constituency in Offa Local Government Area were destroyed. The perpetrators of this act, not being satisfied with their crime went further to threaten our candidate with assassination.
All these are very disturbing. We can no longer have any good and acceptable reason to explain why Nigerians cannot freely and fairly choose who governs them. The federal government must act decisively to ensure that every citizen, no matter his or her political party affiliation is treated fairly and justly.
It was with shock that I received the report of the Ebonyi state government barring our party from holding it's presidential campaign rally through a live statewide broadcast and paid advertisement that ANPP was coming to foment trouble in the state. I laughed and viewed such comment as a manifestation of fear of imminent defeat at the polls.
All acts of intimidation and harassment aimed at instilling fear in the opposition political parties cannot help our nation in the search for credible leaders through free and fair elections. The PDP had better look for another strategy to winning the elections, with the new reforms undertaken by the new leadership of the INEC, all the PDP abracadabra with which they coasted home in 1999, 2003 and 2007 will not work. Besides, Nigerians are wiser and everybody is yearning for a change, nobody wants to continue the next dispensation in darkness, insecurity, decayed infrastructure, weak and import dependent economy. Nigerians are saying enough is enough and this will be expressed in April elections.
The dice is cast. As we move into the campaign field, we shall promise only those things we can do. We shall tell you the truth as we have always done in the past. In every village, we shall tell Nigerians what we will do for each and every one of us to go to sleep with both eyes closed.