Twice rejected Yeka, makes Nigerian Idol final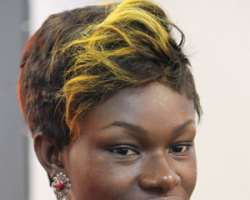 Abia State born Onyekachi Gilbert Onwuka a.k.a. Yeka Onka has certainly come a long way from being rejected at two screening centres to making it to the last four standing in the maiden edition of the Nigerian Idol. Born to a musician father, she shares her experience.
I heard about the Nigerian I dol last year. It was a friend of mine who told me that he saw the advert and asked me to go register on-line, which I did. Then, I went for the audition at Enugu and go a 'no'.
They said I couldn't sing. I traveled down to Calabar and got the same response and got a 'no' again. Then, I finally came to Lagos, I had my audition and was taken.
Did you share that experience with your colleagues?
Funny enough, I've not been able to share it with them. But as at when I came to Lagos for my third audition, some of the crew already knew me because they've been used to seeing my face.
What has kept you going?
God has kept me. He has been my strength and everything. The other thing that has kept me is my determination. I'm a kind of person that if I set my heart to achieve something, I'll definitely achieve it no matter what I face. And I don't believe that what will be will be. I believe that I can turn things around to work for me.
So, when they gave me those nos, I didn't take it as my destiny. I still told myself that I had to work harder.
Do you think you were better than those already evicted?
I'm not. The only difference between them and I is determination and how important my dream is to me.
What will you do with money if you win?
I'll pay my tithe first and then in my State, especially the ones in Aba, it hurts to look into the eyes of those kids on the streets and see hopelessness. So, I intend helping them. I know that N7.5m can't do that but I'll just try.
What are your chances of winning?
100%. I think I have what it takes to be here because I can face and go through whatever challenge that I'm given.