Judge Denies Stopping INEC From Conducting Elections With Current Timetable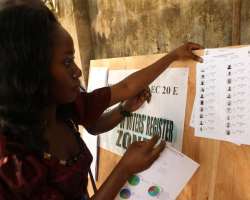 SAN FRANCISCO, March 09, (THEWILL) – A Federal High Court judge in Abuja, Justice Ibrahim Auta today debunked newspaper reports that he issued an order barring the Independent National Electoral Commission (INEC) from conducting the general elections in April in the present order of elections.
A statement from the Chief Registrar of the High Court, said the ruling Justice Auta made on March 03, 2011, in a suit filed by the Labour party was wrongly interpreted, hence the need for clarification.
The statement reads: "Our attention has been drawn to newspaper reports alleging that his lordship, the honourable Justice Ibrahim Auta had on Thursday 3rd March 2011 declared INEC's timetable for the holding of the April 2011 elections, illegal, unconstitutional, void and of no effect whatsoever.
"For the avoidance of doubt, in order to put the record straight and to remove the confusion set in public places as a result of the said publication, created by the wrong interpretation and reporting of His Lordship's Ruling of 3/3/2011, we state unequivocally that the content and import of His Lordship's Order of3/3/2011 as follow:
"That section 25(1) of the Electoral Act, in so far as it repeats the provisions of sections 76(1), 116(1), 132(1) and 178(1) of the 1999 Constitution is inoperative and void for duplication, inconsistent and lacking legislative competency.
"That the plaintiff's reliefs 2, 3, 4 are not granted as they have no meaning or merit at all.
"That the court has no power whatsoever to Order INEC not to go ahead as per the time table for the April 2011 Elections as provided by INEC."
The Labour Party (LP) had gone to court to seek a ruling barring INEC from conducting the April election in the proposed sequence of National Assembly, Presidential election and Governorship/state House of Assembly, arguing that the sequence would have a bandwagon effect and give advantage to the winning party.
The party had also argued that the National Assembly has no constitutional powers to include in the Amended Electoral Act a prescribed order of elections that INEC must follow in conducting the general elections.