No Respite for Igbinedion… As EFCC takes over Assets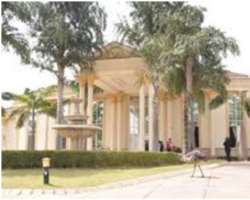 In a bid to enforce a court order to take over the assets and property of former Governor of Edo State, Chief Lucky Igbinedion, in different locations in the country, the Economic and Financial Crimes Commission (EFCC) has sprung into action by sealing off two of his choice mansions in Abuja on Tuesday.  
  The move leading to the sealing off of such was a property at No 7, Justice Fatai Wuilliams, Asokoro, Abuja, according to a Benin traditional chief and friend of the former Edo governor, who seeks anonymity, is an indication that there is no respite yet for the embattled Lucky Igbinedion,  
  Operatives of the EFCC began the enforcement in Abuja based on a forfeiture order of Justice Mohammed B. Idris of the Federal High Court, Lagos.  
 
Justice Idris had on February 28 ordered that Igbinedion's assets be forfeited to the government pending the determination of the charge in suit number FHC/B/11C/2011.  
  Justice Idris, had, after considering an ex-parte application by counsel to the EFCC, Mr. Rotimi Jacobs, granted the forfeiture order which now authorizes the commission to seize the properties.  
  The seal-off is expected to cover properties in other cities in the coming days and being enforced by the EFCC team, comprising operatives from the Assets Forfeiture Unit of the commission.  
  Two of the 11 property, located in Abuja, were the first to be taken over by EFCC operatives. Eight others are located in Benin City, Edo State and Victoria Island, Lagos.  
  Another house, located at 29 Sheldon Avenue, Highgate, London, was also listed among the property to be forfeited to the government of the Federal Republic of Nigeria.  
 
Other property the EFCC took over on Tuesday included a block of four flats at 43 Etete Road, Benin; Chicken Republic on Sapele Road, Benin City; a parcel of land at 3, Boundary Road, Benin City; a building covered by approved plan number 2041/2004 at 20B Etete Road, Benin City; a building known as White House located along Ugbor Police Station Road and another at the neighbourhood of Etete and Ugbor Layout, Benin City.  
  The property to be forfeited in Lagos is located at 55C, Adebisi Close, Off Samauel Adedoyin Street, Victoria Island, Lagos while those in Abuja are landed properties at 5, Danube Crescent, Maitama and 7, Justice Fatai Williams Street, off Justice Sowemimo Street, Abuja.  
  Igbinedion, who was governor of Edo State between 1999 and 2003, is facing charges of alleged unlawful conversion and criminal diversion of fund by the EFCC.  
 
The former governor and six others are facing a 66-count-charge on money laundering and mismanagement of public funds amounting to about N3.2bn.  
 
  The other accused persons are Patrick Eboigbodin; Michael Igbinedion and four firms: Gava Corporation Limited; Romrig Nigeria Limited, PML Securities Limited and PML (Nigeria) Limited.