US embassy Abuja honoured Adaora Ukoh, Julius Agwu, Alex Mouth at the officially launching of 'my vote counts'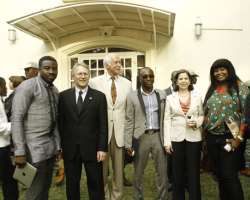 Launching of My Vote Fit Change Naija project....'my vote counts' a15minutes Voters Education Video starring popular entertainers and nollywood actors like Julius Agwu, Adaora Ukoh and 2shot. The video directed by Alex Mouth is a citizenship led non-partisan initiative of Youngstars Foundation was a huge success as the premier/launching officially took today at rockview hotel abuja with lots of music and movie stars in attendance.,
Afterwards the cast and crew headed to the US embassy house where the ambassador, the US secretary of state and other american delegates hosts them to a 6hr dinner/ previewing of the shot feature film.
They all were overwhelmed by the effect of the film and the positive drive to improving in the NIGERIA of tommorrow welcomed the cast and crew of the movie with so much warmth and pictures were taken instantly as the US ambassador made it clear he was glad to have the actors and cast and crew in his home. He particularly congratulated Julius Agwu and Adaora Ukoh for their acting efforts and gave lots of kudos to Alex Mouth the director for a great job.
The US secretary of state after her speech on the effect of youth for a positive driven country entertained questions and comments sections on what the youth think should be done for a better Nigeria.
After which she said " WE HAVE A GIFT FOR YOU" and then the movie previewed to a clapping 200youth and over 50 american delegates at the end.
The cast and crew were called on stage for more pics and accolades.
copies were presented to her which she promised it will get to the white house most definately.
Kingsley Bangwell the producer of the movie and founder of youngstar foundation took to the mic with a resounding end speech, the day ended with casts signing autographs on the free c.ds for all the youth presents as all sorts of small chops were served and drinks while light music played into the night

freedownload is available on youtube and the C.Ds are free.
for more enquiries