Me, tattoo my thing?...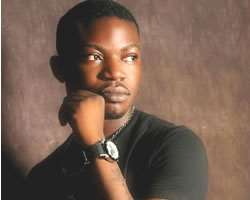 Solomon Oyeniyi (a.k.a K. Solo), a product of The Polytechnic, Ilaro, in Ogun State and The Polytechnic , Offa, Kwara State, speaks with TADE MAKINDE on his strained relationship with Timaya and on other issues. Excerpts:
How did you come to be called K.Solo?
It is the name my father used to call me before he passed on. He used to call me King Solomon.
Was Timaya your first major artiste?
No, but his job was the second job I did one hundred per cent.
Why did you two part ways?
I didn't part with Timaya, we are still friends. There were little hitches on our working terms then. If we are to work together though, addressing those grey areas will affect how we shall work together on his projects. But we are still friends.
Yours was a partnership that many envied, can you form such with another act again?
That's a big question. It's like asking Cabasa such a question. I would love to, but it will have to be on conditions.
Who would you like that to be?.
I have not decided yet, but I'm eyeing some new guys. Time will tell.
People say Timaya is done without you, do you believe this?
Maybe, maybe not. I know he still goes to shows and performs all his old and new songs that I produced for him and even the songs he collaborated with other artists. See, I know his weakness and I'm positive he will soon make a shame of himself because there is nothing new coming from him for now. Other young guys can do better what he is doing now, that's why he needs to come anew. Make he just go back to God and apologize to the people he has played.
Songs from his last album are not doing that well in the market, do you think it's because you didn't have a hand in its production?
I don't think so. I think he is not a good businessman and that he has lost his timing. He got carried away by another man's style of music, which, not surprisingly, didn't work for him.
But there were two songs produced by you in that album.
There are some songs I did and felt it had potentials of making it in the market, like Plaintain Boy, but they were not recent jobs. That he chose to release them now is his prerogative though.
What was your agreement with Timaya when you started out?
We had no agreement. Sincerely, I took him as a brother and worked with my whole heart for him. I guess I had been a fool. Then, I didn't know what a contract was. Let's say I didn't believe signing a contract could work with a brother. But when money began to roll in, my brother changed. Though I was making money too, and was not really short of cash, I expected him to do something whenever we shared pleasantries in hang outs. I remember I helped him get out of a slavery contract before I even started to work with him. Money changed him and he stopped listening. Irony of it is that of all people, I am the only one that speaks to him. All the same, he is still my friend.
How did you two meet?
God planned it.
Do you plan to sing like Sheyman or you want to be a producer all your life?
I have been singing long before a lot of artistes ventured into it. I only switched because I made money producing artistes then. I have done backups, hypes, voice over for commercials and so on. So, it has been a long time coming.
Has it been worth your while?
Yes, a least it meets some ends.
If it had not been music, which other profession would you have taken to?
I would have been an Electrical Engineer contracting for a company.
Apart from Timaya, who are the other artistes you have worked with?
Kefee,Sunny Neji, Mr Kool, Ajasa, Ruggedman, KC Presh, Klever Jay, Durella, Iyanya, Paul Play, Muma Gee, Jahbless, H-Man and loads of upcoming act
How true is it that you tattooed your private part?
I no know oh. You have to get there to find out.
Is it true that you dated the same girl with Timaya as being said?
I don't think so.
You don't think so? Was that why you parted ways with Timaya, over a lady?
We never parted ways. I have told you what went wrong with me and Timaya, no lady was involved.
Who are you dating now?
My wife.
Have you ever been beaten at a musical event in your life?
It has never happened to me at all, but I have been harassed several times. I am used to that.
What is responsible for the successes you have enjoyed in the last decade?
Patience, endurance, and believing that some day, the industry would get better. That is coming to pass in my generation.
This is 2011,how will this decade be for the music industry?
Let's live it to God, but you can be sure that the shaft will be separated from the wheat. No more I get money, it will have to do with your material. That means hard work and no more junks. Nigerians are beginning to appreciate good music and good message.