MY FORAY INTO ACTING 45 YEARS AGO -AJAI-LYCETT AT 70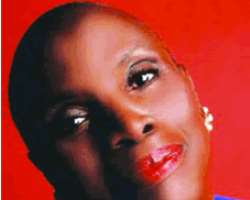 •Ajai-Lycett
To say that veteran dramatist and actress, Mrs. Taiwo Ajai-Lycett is happy at 70 is indeed an understatement. Ajai-Lycett, who joined the septuagenarian club recently is rolling out the drums at different venues in Lagos to mark her birthday. Having put in over 45 years to a career which spanned stage acting, teaching and directing, the talented lady has indeed come a long way.
A woman of many parts, Lycett, who stumbled on acting at the Royal Court Theatre in London said it was accidental and that she was discovered by a Director during a rehearsal.
Lycett had actually travelled abroad to study Law but events turned round and instead of Law, she studied Management and several other art-based courses which broadened her scope and made her one of the finest theatre practitioners in Nigeria today.
Lycett had her early education in Lagos and was a pupil-teacher before proceeding to the UK in 1960. She attended the Guildhall School of Music and Drama, London, City Literary Institute, (City Lit) and the Dance Centre, Floral Street, Covent Garden, London studying acting, music, voice, singing, ballet, modern and contemporary dance. She was trained as television producer and presenter at the London School of television production.
While in London, she combined working with schooling. She attended the Christine Shaw School of Beauty Science and Cosmetology, London, the North Stafforshire College of Technology (now Keele University) and graduated with a Higher National Diploma. She had also worked at Klyon's Tea Shop in the City from 1960-62 and studied at night schools and at Pitman's College. Aside that, she worked at the United Kingdom General Post Office, Graham Street Headquarters.
Lycett was for many years the weekly presenter for the BBC's magazine programme, Calling Nigeria-broadcasting from Bush House, London. The programme was then produced by Florence Akst. John Gordon and Gwenneth Henderson. She was also on the children programme, Play Away for the BBC.
For her immense contributions in her fatherland particularly, Lycett was honoured with Order of the Niger (OON) award by former President Olusegun Obasanjo during the Nigeria's 47th Independence Day anniversary. Aside that, she was also honoured in the same year with the Heritage and Honours Award of the Association of Advertising Agencies of Nigeria.
Lycett is a fellow of the Society of Nigerian Theatre Artists (SONTA) and has received Outstanding Role and Enviable Accomplishment Award (1997); the REELS Merit Award (1999); the Amazon Award for outstanding contributions to nation building (2002) and award for service as a mentor in the FATE programme for Aspiring Entrepreneurs, (2001). She also got the Lagos State Government's Merit Award in recognition of her Meritorious service towards the Advancement of education in the Alimosho Local Government, (2005); Tiwa 'n' Tiwa- Lagos State Television and Broadcasting Corporation; Recognition-Main Film and Television Productions and Opral Awards, among others. She is proud of her son, Debo.
In a chat with Daily Sun, Lycett spoke on her career and her birthday.
How I started acting
I became an actress by accident. I had a friend who was rehearsing a play so I went to visit. They were rehearsing Wole Soyinka's Lion and the Jewel. It was the first time it was going to be staged. I was sitting in the foyer of the Royal Court Theatre in London and the Director William saw me and came to me. He asked what I was doing and I told him I was waiting for someone.
He told me about the production and asked if I would love to be part of it. I told him I had never done anything like that before. Eventually, I was invited to the production and I played the role of a village girl. After I was discovered, I did a lot of studies in Acting. Whatever I did then, I made sure I was trained. That is the sort of thing I am planning to do now in Nigeria. To see if the actors would want to do something serious about their career. Performance is not just about entertaining people, it is also about informing and educating them. You cannot achieve that if you don't get educated. You have to understand that you don't know much, you need to learn everyday.
Legacies
A life of discipline and cooperation with one another, of skill and with tolerance of one another. Cooperation is the most important in life because we learn to work together in the interest of everyboy not just to be looking after oneself alone but to share with people.
Taiwo Ajai-Lycett Foundation
The idea is to set up a foundation which can organise workshops to train writers, directors, stage managers, playwrights, actors, costumiers, make artists generally on the art and craft of the theatre. When they acquire the skills, they would be able to make meaningful contributions to Nollywood. By this, Nollyhood would be more enduring, and the quality of what we are doing will be higher and attract international awards such as Oscar awards in Hollywood.
Acting profession
I went to England to study Law. I did not intend to be an actor but I was discovered. I was discovered in the sense that I went to see a friend who was rehearsing a play and the Director saw me and asked if I wanted to join the production. As soon as I started, people came to watch me perform and started giving me work. Later, when I received the training I knew I belong to the theatre really. Today, I have done quite a few things on stage and television.
Between film and live theatre
Theatre has moved on now. It makes part of visual art more accessible to a greater number of people. In those days, if one had an idea and couldn't afford the right kind of camera, it would be the end. But today, one can buy a camcoder and make sparkling, brilliant films, so it makes it easier for talents to be groomed and develop.
Besides people run after films and video because they are more visual. They also think that it is more popular. Ironically, it is from the stage that the artiste learns the skills that are more enduring and where the audience feel the action. But anywhere in the world, there is more money in films than on stage. This is because more people are watching films and videos than stage.
People are buying the video, they are buying the films and money is acruing to producers and the artistes. But for live theatre, only a very few go to watch. The stage builds up a family of viewers and theatre attendants. This is because the theatre teaches not just actors, it teaches people also. It is culturally superior.
Becoming a professional actor
You've got to train, you've got to work on your body and your voice above all because you are communicating with your voice. It is not enough to have a voice and think that you can speak English, you've got to be well read too.
As a mentor
I have been acting for the past 45 years. I set up Taiwo Ajai-Lycett Foudation to pass on what I have for the younger ones.
Regrets
There is none. I never lived with regrets. I don't regret being an actor. It is a wonderful thing. If you live your life well, if you do your work well and work very hard at it and you train yourself what it means is that you will get appreciation, you will be respected by people.
Turning 70 years old
I am so happy. This is the very best time of my life. I want to thank everyone for making my life worth living, for turning my life into an inspiration for some other people to be encouraged. I cannot quantify this and I cannot thank everyone enough for the honour. Now, if I die tomorrow, I know I have lived.