Dickson Iroegbu, wife still at loggerheads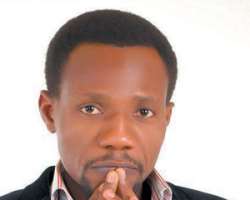 Movie director, Dickson Iroegbu, and his wife, Efe, are not the best of friends at the moment if information at the disposal of Life and Beat is anything to go by. It was gathered that the lady had finally moved out of her matrimonial home. Iroegbu confirmed this to Life and Beat on the telephone earlier in the week, saying his wife moved out of the house in the dark hours, taking along with her their three kids.
"I see it as a criminal act. This thing happened a day before my birthday. I learnt she moved out of the house in the night with the help of her mother. I called her and when she eventually picked the phone, she said I should go and sort myself out," the movie director says.
Iroegbu alleges that his wife has not been supportive since he moved to Abuja to concentrate on his initiative, the Goodluck Transforms Nigeria Campaign.
"She is older than me, but I have always respected her age, but she has never respected me. She barely tolerates me. I have stopped active movie-making for some years now trying to focus on some initiatives of mine, but instead of giving me support, she will always tell me that my ideas are vague," he laments.
Though he complained about his wife's excesses, Iroegbu believes that his home would have remained intact if not for his support for President Jonathan.
"If I had stayed back at home and not stayed in Abuja for this cause, my wife might not have left me. I'm spending everything I have for this campaign. I have been living in a hotel since I got to Abuja; nobody has given me a kobo. But I don't mind. My family has left me, but if this is a sacrifice I have to make for Nigeria to move forward, then I will make it," he says.
Efe, however, says she is not ready to take issues with her estranged husband. Speaking with Life and Beat, she says, "Dickson is twisted. I'm not ready to banter words with him on the pages of newspapers. People have been writing rubbish and nobody has bothered to get my own side of the story. I can't dry our dirty linen in public.
"I'm thinking of my children. They bear their father's name. Can you imagine what these stories do to them? I'm a civil servant; I have colleagues in the office and do you know how I feel when they read such rubbish about us in the papers?"
An explanation by Life and Beat that getting her own side of the story is to ensure balance did not impress the embattled woman.
"If you try writing any rubbish about me, I will sue Dickson, I will sue you and I will sue your newspaper," she threatened.