'I feel highly favoured'---Olusola Asadeko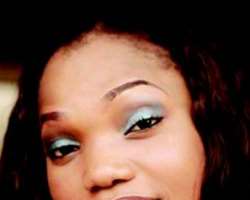 Olusola Asadeko hit the limelight in Abeni, one of Tunde Kelani's box office hits. Graceful and unassuming, the talented actress is untouched by all the fame. She simply believes she is a child of favour. She spoke with YEMISI ADENIRAN.
In few years, you have joined the league of the most celebrated top actresses. How does it feel?
Well, I feel very great and full of thanks to God. He is the one responsible for all that I have been able to achieve and become. I never knew I could come this far but it has pleased Him to be faithful to me. I was once a nobody, I mean faceless, but He has considered me with an appreciated face. I feel good and highly honoured. Although this comes with its challenges. I still thank God for making His grace available for me.
What are some of these challenges?
Oh, the usual ones. One is not free to do just anything like before. You know you have become a known person and heads automatically turn wherever you go and that means you must be a bit cautious of your appearance, utterances and conduct, otherwise, one might end up a let down to his or her teeming fans. Besides, you don't know who is watching you to sign you on for one contract or the other. As a celebrity, you are not permitted to laugh, eat and play freely as you would have loved to, but we are coping all the same. Again, you may be going quietly and someone will scream out your name in excitement from nowhere and whether you like it or not, you must smile at all cost otherwise, you will be putting them off. Of course, that will be bad for business. You can no when you get into the movie properly?
Many believe that your role as Abeni shot you into limelight. What's your view about this?
Yes, it was Abeni that shot me into limelight and that was in 2006. It gave me a lot of leverage. People have been calling me for other roles ever since.
How did you get the role of Abeni?
Before then, I had been involved in stage plays and different auditions. It was while I was on the location for Narrow Path that I got noticed and recommended for the role of Abeni.
How were you able to combine acting with your office career then?
It was not an easy thing but God has been my strength. I was employed by Indicator Media where we produced magazines for the Lagos State Government, immediately after my service year at Akwa Ibom. It was a time consuming job but I managed to wriggle my way through. The schedule was tight but I coped somehow.
What's your assessment of the movie industry?
It's great. I have acted along side many great actors and actresses and, believe me, the experience has been worthwhile. The industry is now filled with core professionals and highly educated people. I had worked with movie icons like Yemi Sholade, Femi Adebayo, Fathia Balogun, Kemi Afolabi, Funke Akindele, Yomi Fabiyi, Yinka Quadry, and Akin Olaiya among many others and I have not only had fun but learnt greatly from them. They are very interesting people and fun to be with and work with. Honestly, the industry has been very favourable to me as I have been favoured among my peers.
What's your love life like?
Normal and interesting. I'm in a relationship and currently enjoying it. When marriage bells ring, you will be one of the special guests.
What are your future plans?
I'm working and praying hard to become an actress of international note. I want to go places and I know with God on my side, the sky is just the limit.