WHY WE HONOURED DANGOTE, GOJE - THE SUN MD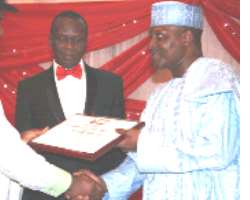 Managing Director/Editor-in-Chief of The Sun Publishing Limited, Mr. Tony Onyima
Managing Director/Editor-in-Chief of The Sun Publishing Limited, Mr. Tony Onyima, has explained why the newspaper conferred The Sun Man of the Year Award on Governor of Gombe State, Alhaji Danjuma Goje and President/CEO, Dangote Group, Alhaji Aliko Dangote.
In his speech at the conferment of the award yesterday at the Eko Hotel in Lagos, Onyima stated that the two have made exceptional contributions to the advancement of the collective destiny of Nigeria.
In his welcome address, last night, during the presentation of The Sun Man of the Year 2010 award to Dangote and Goje, Onyima said the award recipients are among few Nigerians, who have used their wealth, position and connection to make 'life a little tolerable for the average citizen.'
He said that in awarding The Sun Man of the Year investiture, the newspaper looks at individuals, whose 'public conduct and action help to inspire hope for a better Nigeria.'
The MD said the newspaper had identified such Nigerians in its eight years history. 'We have done so for eight years without fail and with today's event we would have honoured 11 Nigerian patriots.'
He said that although such award is not peculiar to The Sun, the newspaper confers the award with every sense of responsibility. He recognized other media international organization, which also confer the awards in recognition of excellence.
'With every sense of humility, let me say, from the outset, that The Sun Man of the Year award is not peculiar to us. There are a few other world media organs that are associated with events of this nature. Readily, the American Times Magazine and its counterpart, Newsweek come to mind. They have been scanning the global landscape to identify men and women whose efforts have helped to advance human civilization.'
The Sun CEO noted that while the newspaper may not be walking an uncharted path in this regard, it is delivering noble utilitarian services to humanity. He said: 'As a medium, we are constantly reminded and driven by our social responsibilities.'
He pointed out that the event is now more of entertainment, which explains why such musicians as Paul Play Dairo, Sugar Band and Dan Maraya were on standby to entertain guests.
He also said that since the hosting of the award has 'grown beyond the trappings of a media event …its sponsorship has therefore been libralised' He invited sponsors to take advantage of this to partner with the newspaper.
In their responses after the reception of the awards, Governor Goje and Alhaji Dangote promised to do more for the nation and humanity.
While noting that they felt humbled by the recognition, the duo noted that the awards conferred on them by The Sun is like a challenge to do more for the people of the nation in their various callings.