OGD, OSOBA IN WAR OF WORDS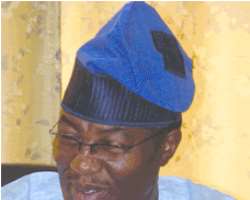 • Gbenga Daniel
Ogun State Governor, Otunba Gbenga Daniel yesterday took a swipe at his predecessor in office, Aremo Olusegun Osoba, describing him as a coward who saw 'war' and fled. Daniel was reacting to Osoba's scathing remarks during last Tuesday's flagging off of the Action Congress of Nigeria (ACN) in Abeokuta, the state capital.
Osoba had, during the rally which held at the Ake palace, described Daniel as an imperial leader, an emperor who takes the legislative assembly to the government and that very soon he would take the chief judge to his bedroom to get injunctions.
Speaking during the second leg of his 'Thank you tour' which took him to Abeokuta North Local Government Area of the state, Daniel said Osoba who called himself Akinrogun (the brave man that faces war), was nothing but (Akinsafogun), which means (the brave man that flees from war).
His words: 'Osoba called himself Akinrogun.
He should be called Akinsafogun. When he lost election in 2003, he ran away. But he ran back when he was no longer contesting with me. He is a coward. I challenged him to a public debate, he refused, saying that it should be in June. I have done a lot and I can tell you that my achievements in office have overshadowed him,' he said to the delight of his supporters.
But in a swift reaction, a media aide to the former governor who preferred to remain anonymous described Daniel as a drowning man who would hold onto anything to stay afloat. 'No serious man will react to a man that has plunged the state into both social, political and economic crises. 'He is a squanderer who has sold off the legacies of our founding fathers. Posterity will never forgive him the way he has ruled the state. Time will tell whether he did well or not,' he stated.
The governor also replied the former governor of Lagos State, Asiwaju Bola Ahmed Tinubu who had during the rally lambasted Daniel for his alleged under-development of the state. According to Daniel, Tinubu is a straying dog that knows his master. For Governor Babatunde Fashola, Daniel said he was too junior to talk to him saying that 'under no circumstance we he had used N3.5 billion to plant flowers as Fashola did in Lagos. He (Fashola) obtains World Bank loan to plant flowers. If we have such money, we will not have spent it on planting flowers.' Daniel also alleged that Fashola used N500 million on Christmas on yearly basis.
According to him, it was in his office (Kresta Laurel) that Fashola received his letter of appointment as a special assistant to Tinubu adding that he deserved respect from such a man. He also alleged that a kilometre road in Ogun, which costs between N20 – N25 million costs staggering N250 million in Lagos. The governor also berated the gubernatorial candidate of the (ACN) in the state, Senator Ibikunle Amosun whom he alleged did nothing while representing the state at the National Assembly between 2003 and 2007.
'For the four years he spent in the Senate, let him point to a project or company he has facilitated. What company has he personally established and how many people has he employed.'
He added that those people that came to the ACN rally last Monday were 'rented crowd from Benin, Osun, Ekiti and they came here to tell you lies. They are betrayers. Amosun is a chaff that is not sellable and ACN is parading such a person. 'Amosun is a reject of PDP. He can't even recite the Ogun State anthem. He is an inconsistent man. He has moved to five different parties within five years. I urge you not to take the reject of the society seriously. I urge you to reject people who are not consistent.'