GALADIMA, JORDAAN FAIL TO WIN FIFA'S EXECUTIVE SEAT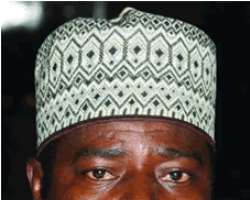 • Galadima
Danny Jordaan, the man responsible for organising a successful World Cup in South Africa, and a former chairman of the Nigeria Football Association, Ibrahim Galadima, were humbled on Wednesday in their bid for a place on the FIFA Executive Committee.
In Wednesday's elections at the CAF Congress in Khartoum, Sudan, Nigeria's candidate, Galadima, polled five votes in an election won by Cote d'Ivoire's Jacques Anouma (35 votes) and Mohamed Rouaroua of Algeria (39 votes). A late electioneering campaign by Galadima and what an official described as the 'Adamu factor' accounted for the failure of Nigeria to have a voice in international football.
'Galadima's defeat was expected. We have it on good authority that one of the personalities directly involved in these elections was calling on delegates not to vote for Galadima. In such a situation, what can you expect?' asked a disappointed Sports Ministry official. 'It was too late in the day for Galadima to make any meaningful impact in the polls. The government did not give him its full support. But is not Galadima's loss, but Nigeria's,' added another official.
Jordaan was hoping to follow in the footsteps of Michel Platini and Franz Beckenbauer, former World Cup organisers who have moved to the top seats in football politics, but garnered less than 10 percent of the vote at the Confederation of African Football's congress in Sudan. Mohamed Raouraoua of Algeria finished first in a hotly contested race for two African places on the all-powerful cabinet of world football with 39 votes and becomes the newest member of the 24-man FIFA committee.
The President of the Algerian Football Federation received 39 votes, while Jacques Anouma of Ivory Coast retained his seat with 35 votes, earning another four-year term. Jordaan, who received widespread praise for his organising of the 2010 World Cup, received just 10 votes. Each of CAF's 53 member countries voted twice. Jordaan finished behind Suketu Patel of the Seychelles, who received 12 votes but ahead of Nigerian Ibrahim Galadima, who received just five.
Kalusha Bwalya of Zambia withdrew from the race in a tactical move that saw him voted instead onto the CAF executive committee, which runs the African game. The 64-year-old Raouraoua has had two separate terms at the head of Algerian football and has also revived a regional body for north Africa.