Nyarko Tells Atiku: Support Me, Jonathan Or Become Politically Irrelevant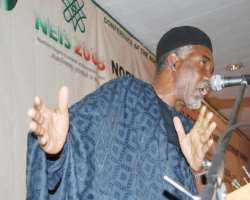 ADAMAWA STATE GOVERNOR MURTALA NYARKO.
ABUJA, Feb 22, (THEWILL) – Adamawa State Governor and Governorship candidate of the Peoples Democratic Party (PDP) in the state has advised former Vice President Atiku Abubakar not to work against the interest of PDP or any of its candidate in the April general election warning that he would become politically irrelevant in the future if he tows that line.
Nyarko gave the advise today during a chat with journalists in Yola saying, "It is only sensible for Atiku to support Jonathan and myself in the forthcoming elections, after all he is still a young man with many more opportunities to contest the Presidential election after all, 2015 is just by the corner."
He warned Atiku to steer clear of sycophants who are bent on using him to cause crisis in the country just because he lost at the PDP Presidential primary election.
"I know Atiku is an intelligent person. He would not give in easily to pressure from his supporters to cause political crisis in the country just because he lost the PDP presidential ticket. He stands a better chance to clinching the presidency in 2015 only if he supports the candidature of Goodluck and myself as one good turn deserve another.
Atiku Abubakar, who emerged the candidate of the pro-zoning political association of some northern interests in the PDP (NPLF), has not hidden his bitterness following the heavy defeat he suffered at the PDP Presidential primary in the hands of President Jonathan.
The political group insists that the north should be given the exclusive right to produce the PDP Presidential candidate for the 2011 election.