Ara set to explode after new baby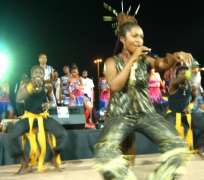 Drummer girl, Araola, after having her new baby and spending so much time with her hubby overseas, has finally decided to come back to Naija.
The talking drum expert told Life and Beat during the week that she would return with a bang, not minding the fact that she had just been delivered of a baby.
"It is good to be back home. There is no place like home. I am hot and ready to explode," she threatened.
Ara would not allow motherhood to get her to look dowdy and drab, so she has already started visiting the gym.
"Baby fats must go. Gym, here I come," Ara said