Shan George's new affair crashes, police arrest loverboy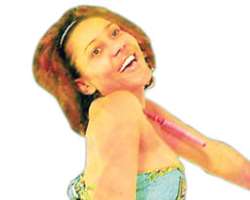 In terms of relationships with the opposite sex, Shan George could qualify as an actress with a high turnover. She just appears unable to land the man of her dreams as she keeps falling out with all the men she has been linked with.
Not long after her marriage crashed, Shan was linked with a younger guy popularly known as Momah. Both of them became an item as they were seen together all the time and many thought Shan had finally found love.
But all seeems not to be well with the relationship as Shan has found herself at a crossroads, again.
She told NFC recently that a friend of Momah named Deji had been defrauding some of the participants in her reality show.
"One of the contestants called me and said somebody asked her to pay N50,000 into his account if she wanted to be among the finalists in the reality show. I told her to forward the number and the text message to me and I found that it was Deji's number," she said.
Shan said she told Momah about it and they confronted Deji who pleaded and said he wasn't going to do it again. "But surprisingly, I got another call from another girl and this time, the girl really insulted me. She told me that I was a fraud since I was using my project to collect money from people."
Shan said she managed to calm the caller down and asked her to forward the number that sent the text message to her. "I found that it was Deji again."
Shan said she could not allow Deji to continue dragging her name in the mud, so she had to report the matter to the police who incidentally arrested Momah and asked him to produce Deji.
But does she suspect her lover to be behind the incident?
"I am confused. I don't know what to think again. The list of the contestants' names and numbers is in my bedroom. It is only an insider that could get that list. I don't think Deji went into my bedroom to search for the list. I am really confused and I don't know what to think again."