I'm single and ready to mingle —Eniola Badmus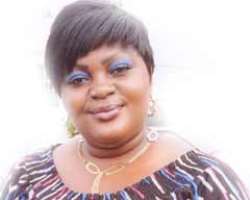 When you say big and beautiful, that is the case with Eniola Badmus. She made her entry into the movie industry eleven years ago with the movie Brutal times, and ever since, she has had countless movies both in English and Yoruba to her credit.
She is a known face in some television jingles and promos. Undermining her size, beautiful Eniola is one actress that carries herself with such great confidence on and off set.
She has featured in films like Black Bra, where she played the hard babe on campus. In this chat with Showtime's Funmi Johnson, she speaks on her career, her grooming, and her preference when it comes to choice of underwears. She says she is still single and ready to mingle and of course, she says she is very romantic. Enjoy.
How is life and how is the acting career treating you?
We thank God, acting is going on well.
How long have you been acting?
I have been acting since 1997 and that is about eleven years now. I actually started with an English film.
Which was your first movie?
Brutal Times.
What inspired you to go into the acting profession?
I have been acting right from my university days at the University of Ibadan.
What did you study in school?
I did Theater Arts for my first degree in U.I but I am in the final year of my second degree now.
Is it a childhood passion?
I have been acting from my school days; we used to have a drama group in my school then.
Considering your size, you are a wonderful actress. What is the confidence that keeps you going?
It is God that makes such achievement come true, not just by my abilities alone.
What was growing up like for you?
Growing up was fine. I went to series of primary schools. I started with Maryland Convent School and I left for Air Force Primary School and then to Adeola Elementary School in Ijebu Ode after which I went to Anglican Girls Grammar School in Ijebu Ode and then I had my first degree in University of Ibadan. And now, I'm at the Lagos State University for my second degree. My childhood was fun; my parents were neither poor nor rich but we were comfortable and I mingled with all sorts of people and that helped me grow up well.
Which part of the country are you from?
I am an Ijebu girl with an Egba mother.
You are also easily identified for your bling-bling make up, is that your signature?
May be, may be not. But I am a very colourful person and I like colourful things. In the whole of the make up, my favourite is the eye shadow; I really take my time to wear it. You know I am big but I am not fat so I try to make my face as attractive as I can and I play with colours, especially the bright ones.
Would you rather shed some weight or do you prefer the way you are?
For health reasons, I will like to shed off some weight because it is not too healthy to be too big.
In most of your movies, you have played several roles ranging from the campus hard babe to prostitute. Who is the real Eniola Badmus?
Eniola Badmus is just a simple person that is as regular as everyone else. You know, as an actress, you should be able to play any role you are given well but unfortunately, some people think that we are what they see us act in movies. But it is not so. I am just like any other girl.
If you can effect any change in the Nigerian movie industry, what will it be?
I will work on the technical aspect of our movie productions. We need to work more on our sound and picture quality. So that is what I will change.
What is your view on sexual harassment in Nollywood? Is it real?
Yes, it is real in Nollywood.
Have you ever been sexually harassed?
Yes. I have been sexually harassed but that was when I just started out, when I was still new in the industry.
So what did you do?
I prayed about it and somehow, I overcame it.
How do you handle advances from male fans, especially the very stubborn ones?
The truth of the matter is that they must come but it will now be left to the person to decide whether she wants it or not. For me, I appreciate them and make them understand my stand and I also draw the line between work and pleasure.
So who is that special man in your life right now?
Oh that person is a wonderful person and caring too.
And how soon are you walking down the altar to tie the knot?
Really, I want to get married and settle down but I am still single and ready to mingle.
You are not searching...?
Obviously when I say I am ready to mingle, it means I am still searching.
Who is your kind of man?
I want a man that is tall and big on the average, not as big as I am though but someone on the average size.
How romantic are you?
I know I am very romantic. Very, very.
What is your choice when it comes to underwears?
What do you mean underwears?
I mean the pants, brassiere and negligees. So what is your choice colour for such?
It may surprise you to know that I wear only one of the three you just mentioned.
So which one is that?
I don't want to say, I leave the guess to you but I wear only one of them.
Who is your role model?
I stopped looking up to anybody ever since my mother died because she was my role model.
How supportive were your parents when you started acting?
At first, no one liked it. They did not want me to do it but thank God that today, my father understands that it is what I love to do and he allows me to do what I love to do.
Have you had any embarrassing moment for playing a particular role in a movie?
I get a whole lot of that every other day. When we go to shoot, our audience sometimes will not allow you to move. Some will demand for money from you just because they watch and buy your movies forgetting that we actresses are also humans like they are with blood running through us too.
What is your favourite food?
My favourite food is an Ijebu native food called Ikokore.
What is one good thing that you can say acting has done to you as a person?
It has done a whole lot to me. I am a person who loves to travel and meet people and this career has taken me far and wide. It has made me go places and I have been privileged to meet with all sorts of people.
What is your advice for the upcoming ones?
They should be focused and determined and shouldn't get carried away by the mundane things of life.