If I must kiss a man on set, I will ...— Emeka Ike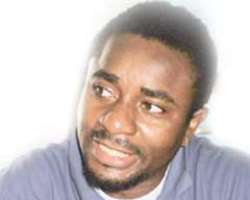 On stage, he is known to be a playboy, but in real life, he is an admirable enterprising fellow. Ace actor, Emeka Ike, is not given to pretext when it comes to sharing his experience, or discussing issues that affect his well- being. He sees you, and welcomes you as a friend. And before you know it, he is already relaying his story to you.
Having made his mark in his chosen career, as an actor par excellence, Emeka can beat his chest today, and tell anyone that acting has brought to him both the good, the bad and the ugly. In this encounter also, Emeka is greatly piqued by the latest development in the movie industry. Read...
Emeka Ike and his vision
Emeka Ike is coming from the intellectual circle. I have always believed in everything that makes sense to me. I like to case-study issues before I get myself involved in them. Before I joined the movie industry, I have always been objective. By profession, I am a Mechanical Engineer.
I tried to work with that stuff, but somehow, I noticed that this entertainment industry is more amazing to me. So, it took me away from my initial vocation. Whatever I do today is subject to my critical overview of it. In other words, anything I have to involve myself in today, must importantly be of benefit to me.
What has fame brought to you?
Fame has brought the good, the bad and the ugly to me. The good because many people see you and tend to be friendly with you. And the ugly, because sometimes, you get certain things you don't expect to get from anybody: some people unnecessarily want to compete with you and many others, sometimes, appear to be unfriendly. Some other times, some people will see you, and pretend as if they don't know you.
Worse still, they will snub you and mutter some kind of disapproving words like, ...and so what! All these put together make up the ugly side of what fame has brought to me. But whether, good, bad or ugly, Emeka Ike is the central issue here.
Did I hear you say the bad and the ugly?
No....no...! The womenfolk have been very wonderful. But I have more male admirers than I do have female admirers. My male admirers most often than not call me to tell me that they love me. I must tell you, that about seventy-five per cent of my viewers really appreciate me for who I am.
How does your wife react to your love roles?
I have been a star before she came into my life. And so, she knows well that acting is what I do for a living.
I don't go beyond my limit while on set because I have a lot of respect for my marriage. My wife has never had any cause to suspect me, because she has never caught me with any girl ever, since I joined the movie industry.
Even, sometimes when I don't kiss properly on screen, she holds me and tells me that I did not do it very well, because of the fact that I was scared of her. And we do laugh over it. I don't get carried away because I am already a father in the industry.
I have trained many emerging actors. How can I allow myself to be carried away emotionally, when I know that my fans out there are watching me? So, it will look stupid for me to lose my focus, simply because of that five minutes enjoyment. I would have exposed my stupidity at that moment.
You must have met your wife while on location...
I met my wife when I was editing one of my movies. I saw her, and she looked very okay. She also possessed the qualities that I wanted in a woman; cool, calm and loving. I said, wao...here comes my angel.
Would you say you were under pressure to marry her, especially when some of your colleagues are still enjoying their bachelorhood?
Yes. My father wanted me to marry because I happened to be the first child in our family. There was a lot of responsibility placed on me, and I needed to settle down in order to be focused. Most of my colleagues who are not married now may have cause to regret their action, because age and time are no longer on their side.
Playing around with the most beautiful girls in Nigeria will not make any meaning to them if they have no one to call their own wife.
What are the things that attract you to act in a movie?
When the script is very obscure and tasking. I don't entertain any complex on set. I play my role to a convincing level. And anyone watching me will see the level of reality in whatever role that I am given to play. I know that I count as one of the star-models in Nollywood today.
What role would you not like to play in a movie?
I wouldn't like to play the role of a homosexual. I will find it difficult to kiss my fellow man on set. But if I must do it, I will try my best.
Aside acting, what other thing do you think you can do to earn a living?
I am an enterprising young man. Aside acting, I still have a lot of other businesses I am doing, which do not have anything to do with entertainment. I can do anything to survive; hawking pure water.. street trading, name them. Once you are enterprising, you remain to be enterprising and once you are dynamic, you are dynamic.
Now, let's talk about the prospects and the criticisms that trail the controversial Distribution Framework of the National Film and Video Censors Board (NFVCB) which is responsible for the recent legal battle between the Board and the movie marketers in Nigeria, do you welcome the policy.
And when do you see the face-off ending ?
If I may ask the Director-General of the National Film and Video Censors Board, Mr. Emeka Mba; 'Why is he arresting the movie makers who are engaged in a legitimate business? Is arresting them, the first thing the officials of NFVCB should do? How can you be calling the copyright owner a pirate?
Is it because the man refused to register with the Censors Board, on the ground that he does not believe in the tenet of what the agency is offering to him to sign? I am sure that the NFVCB director is working with some sycophants, who have not done any movie in the last two years. He came up with a framework that is unacceptable to the movie makers.
Tell me, where does Mr. Mba expect the movie makers to get N50 million bonds from, and N500,000.00 to obtain a licence to sell their products? Is it not ridiculous for him to impose fifty million on each marketer as pre-condition for license? Before now, I should have done more than fifteen movies, and earned close to N4 million as an actor. But I can't do anything now. Since Mr Mba assumed office as the D-G of NFVCB, things have not been the same again.
He has introduced certain obnoxious laws that limit us (so much). While movies are not shot again, the NFVCB director has been going about arresting major movie makers in the country. All these things have to do with the Nigerian syndrome; that as Nigerians we can't do anything better than the White man. But if that is true, then, Nollywood wouldn't have gotten the international acclamation that it has today.
As a matter of fact, the marketers represent more than 90 per cent of the producers of Nigerian movies. How then can anyone turn around to accuse them of pirating their own products because they have refused to sign with Mr. Mba, or because Mr. Mba has refused to reason with them.
What I am saying is that, NFVCB should allow sensibility to prevail. Let the man who spends his money to make films tell you where it is pinching him so that the government can come to assist him.
My agitation is that by the time NFCVB starts to arrest the major marketers, the agency would have succeeded in shutting down the movie industry in Nigeria. The framework should be structural. It should be able to contain the artiste, the Guild of Directors, Actors' Guild and marketers alike. There should be workshops, seminars, symposiums and all other enlightening programmes to carry everybody along.
We are talking about an industry that organises an award ceremony with over N900 million for just one night. And yet, the industry does not have up to N10 million to rent an office space for the Actors' Guild.
What are we talking about here? Why can't they decide to fund the industry? For an Industry that is considered the third largest in the world and one that is generating figures in the region of over ten billion annually, it is a sad situation that most of the practitioners still live below the poverty line. It is only a few of us at the top that are being rewarded well below what we are worth.
This is an industry where if you make only one movie a year, you can go home and rest without bothering where the next meal will come from. The major reason behind that statement is that Nigeria has the population to support the work that we do and we have not only affected Nigeria but the whole world in general.
The second reason is that movie- making is a highly intellectual, physically demanding and an artistic expression which really is not quantifiable.
Today, government has a duty to clamp down on tariff so that we can have quality production equipment and stop patronising South Africans, who have the best equipment around now. We have the act, the intelligence and the creativity. But what we are lacking is the funding.
So, it's important that the government learn to identify with people that are doing the right job, and not with mediocrity.
I advocate the need for the Censors Board to dialogue with the movie makers on the way forward.