I LOVE MY FIGURE - FIONA, MBGN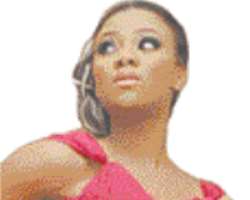 Fiona
Current Most Beautiful Girl in Nigeria, Fiona Amuzie is one of several students of the University of Jos who are deeply saddened by then tragedy which the situation in once beautiful and peaceful tin city has become. Fiona is a third year microbiology student of the institution that nestle on the picturesque hills of Jos. Partly because of the worsening situation in Jos, she had to seek refuge in Lagos.
Meanwhile, she has to continue discharging the responsibilities of her office as the MBGN 2010. After a photoshoot in the Lekki studio of Mattson Creations, and a get-together with her friends, lovers of arts/ photography and journalists, tagged 'A Glass With Fiona', which was hosted by Mattson Ibadin, delectable Fiona, who comes from Abatete in Idemili Local Government Area, Anambra State, spoke with Sunday Sun, revealing that she has two brothers and two sisters. Born and bred in Benin, Fiona says that she witnessed teenage trafficking at its worst. And further that she has sweet memories of her days at the Federal Government Girls College, Niger State. Excerpts….
As the Most Beautiful Girl in Nigeria, 2010, what has life been like?
I have this simple philosophy that whatever comes to you, you should make the best out of it. I have been able to learn a lot, explore, find my scope and basically have the experience of a lifetime. The crown of it all was when I represented Nigeria at the Miss World pageant. It was a very wonderful experience I will never forget. I met ladies from all over the world, different cultures from different nations; it was a very beautiful experience.
How did your parents feel?
They were so proud of me, they were happy that I was able to achieve what I went for. Before now, I had been getting a lot of offers. It was like, do I want to do this? It was something that wasn't pre-planned, but the pool of fate has brought it to me. Basically, I have come to see everything from different perspectives. I have learnt a lot so far and more things have been added to my life. I try to improve, everyday of my life; as I learn I improve in whatever I do and it's all about self-development and self-reinvention.
What does style mean to you?
My style is anything as far as it's sexy. It must reflect glamour and elegance, but first it has to be sexy. I'm always comfortable in clothes that are able to flaunt my body. I know my body, so I know how to work it. I wear clothes that suit my body and also suit the tone of my skin. I also like textures because of the way you feel the clothes, it's actually very important the way you present yourself.
You'll always catch me in a dress, but once in a while you get me in a very glam and nice pair of jeans with a very nice shirt. It makes me look classy. But most times you catch me in dresses that make me look sexy, so I tend to juggle between both. Most times it's the beautiful and comfortable that goes. I like to try on natural things because they work best for me. Basically, I try natural things and I take a lot of water. My parents are fair; I would probably say it's genetic. I try different ranges as long as it suits me.
After your studies what next?
I would still continue to study and face my pet project, which is combating human trafficking and child labour. It's a continuous project and it has longevity. On March 6, I would hold a fund-raising event at Eko Hotels and Suites, for the victims of human trafficking and child labour.
Why did you choose this specific project?
Well, I was born in Benin. That was where the passion started. I saw young ladies being deceived and exploited by human traffickers. And it's really saddening. I said to myself, it could have been me. These were girls who had very bright potentials and I hate to see a child being forced to do what he couldn't do beyond his abilities. I am so glad am doing this and I will keep pushing until human trafficking is abolished in Nigeria.
When growing up did you ever imagine yourself becoming a beauty queen someday?
I had always been very unique. It was something inborn; I never really saw it personally, but everyone that came across me always called me the queen. My native name is Ezenwanyi, which means queen. I don't know what my grandma saw that made her to give me the name. Fate just put everything in place.
How's your schooling and the crises in Jos?
I just have to be careful what I do, where I go, and not to step on people's toes. The most dreadful thing for us is to be having religious crises in Nigeria. We ought to be one country, united people who believe in one Almighty God. I see what is happening in Jos as the height of insanity. I pray the people doing this will come to their senses and know that there is no need for all these. We all have to live in peace because we are one. Someday, they would realise and know that in the long run we are one.
Are there things you can't do now?
You can stone me if you see me on a bike. We have grocery shop where I can shop. Whatever I can get in the market I can get in a grocery shop.
How do you spend your leisure time?
I love to watch movies. I can go on and tell you about Ije, I love to read bookstoo, particularly authors like Danielle Steele, Chimamanda, Jeffrey Archer, among others.
Where is your favourite holiday spot?
I have to go to Google for that, because there are lots of places, a whole lot. This country is so beautiful, Obudu Cattle Ranch for instance; we were always talking about Paris and the rest, but I think we are actually getting there. When it comes to holiday destinations, you think twice about going on a 24-hour trip or six hours trip. You can easily think of 45 minutes trip because it had offered me the best I needed and could probably get a tourist destination that would take almost 24 hours to reach.
What kind of ride do you like?
I think I love the Muraino Jeep. I also like some other models or auto brands that have the same shape, but the Muraino is for me, anyday, anytime.
Would you describe yourself as beautiful body freak?
We always have to eat right, at the right time, and the right food. We also do some kind of exercise. I don't neglect that because it is important. We admire the bodies of some foreign people. We should realise that they also do the same thing. I have always done that.
After school what next?
I would have an awesome life. So, whatever comes with awesome is it!
What does it feel like to be a beauty queen?
I feel special. I feel like some people would like to be in my place, but they are not. So, I feel privileged.