OBI COMMISSIONS N175M AWKUZU WATER SCHEME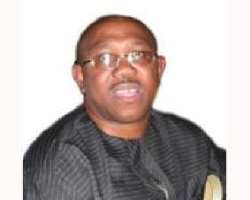 Anambra State Governor, Peter Obi, on Friday continued his weekly flag-off of water schemes across the state with another N175 million medium-scale water project in Awkuzu.
The project is one of the six schemes being executed by the Anambra State government under the 2009 Millenium Development Goals (MDGs)-Conditional Grants Scheme (CGS) programme.
At the flag-off Governor Obi said his government was always committed to providing meaningful development to people of the state rather than engaging in frivolities as was the case before he came on board. He charged the community to take charge of the project and treat it as their own instead of leaving it to government to safeguard, assuring that the scheme would be equitably distributed across the state.
He appealed to people of the area to vote wisely in the coming polls by ensuring that only capable people the All Progressives Grand Alliance (APGA) would field in the April polls were elected.
In his speech, the Commissioner for Public Utilities, Water Resources and Community Development, Emeka Nwankwu, said the scheme is among 17 others being handled by the state government with the collaboration of EU-WSSSRP and the MDGs-CGS to reactivate the water sector in the state.
Nwankwu, who briefed newsmen when touring the site, said the project was being handled by One Dot Associates Nigeria Limited.
He said the project would be ready by April 1 and described the Managing Director of the company, Mr. Uche Ubajaka, as one of the best water contractors in the state. In her speech, Commissioner for Budget and Economic Planning, Chinyere Okunna, who is chairman of the state's MDGs, said the scheme reminded her of the absence of good governance, which had characterised much of the post-civil war history of the state until the advent of the Peter Obi administration.