MEN BEHIND JOS KILLINGS – JANG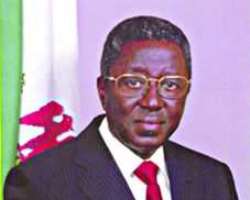 Jang
Indubitably, Plateau State Governor, Jonah Jang, is on a hot seat, particularly so because of the unending crisis that had become the lot of the state in recent times. He even admits that the state has a lot of challenges but does not agree that things were as bad as they are being painted. In an interactive session with journalists in Jos, he gives his own account of the situation. Excerpts…
Is the Jos crisis religious or ethnic?
It is a religious, ethnic, political and economic crisis. Honestly, it is traceable to all these factors but more fuelled by religious zealots. For instance, we were amazed when people argued that the November 2008 crisis was political. Incidentally, the hoodlums did not burn any political office during the mayhem. The killings and burning took place in churches and mosques.
In the same vein, the results of the local government election often cited as the cause of the crisis were never challenged by anybody in Jos North local government. We set up electoral tribunal after the council election but no single person from the said local government disputed the outcome of the exercise, even the councillorship posts. It was only about three other local governments that didn't have problem with the election that the results were challenged at the tribunal and it was peacefully resolved even in favour of the opposition parties before we swore them in.
So, it was strange to hear that the 2008 crisis was caused by the local government election conducted by the state government. How can that be when the said local government that witnessed the crisis had no disputed results and the candidates that won that election are still serving their term? They were just looking for an excuse to launch attack on innocent civilians.
That is why even when we set up a panel of inquiry headed by Prince Bola Ajibola to actually investigate the matter and come out with the truth they kicked against it. They cannot say Ajibola was biased because he is a devout Muslim and also has a track record as an internationally-acclaimed jurist, having served at the International Court of Justice in The Hague, Netherlands, meritoriously. Yet they did not accept that report because of the truth it contained. Why didn't they support the panel of inquiry, because they felt the report may not shield them?
How much of the reports of the commissions of inquiry set up on the Jos crisis has been implemented?
Well, I have been shouting this thing all along but nobody wants to pay attention to what we are saying. How do you implement reports when the very people who are caught in the act are ferried to Abuja and released? That has been the problem and I have been shouting about it to no avail. In 2008, over 60 Chadians/Niger citizens were arrested in the state in connection with the killings and since they took them to Abuja, nothing has been heard about them.
Nobody has ever been brought to book so far by Abuja, who controls the entire security apparatus. The governor is just a mere chief security officer for nothing. He has no control over the police commissioner posted to his state; neither are other security chiefs answerable to him. The governor relies on the federal government for the security of his state.
However, the painful aspect of it is the mysterious escape of those caught in the act and the manner they beat federal security agencies. The question that bugs the mind is how those rag-tags from Chad or Niger, who don't even feed well, could afford sophisticated weapons like AK-47 rifles? To buy such gun one needs at least N200,000. Where on earth did those young boys with poverty signs on their faces get that kind of money? These are the things that Nigerians should ask their leaders to provide more light on.
That is why the people of Plateau State recently protested against the operations of the federal security forces in the state. But thank God all these things are already being taken care of with the latest restructuring of the security apparatus. Now they are changing the security personnel at the interval of three months because when the same type of people stay too long in one place they tend to compromise on certain things. What we are doing now will also allow us to improve the neighbourhood watch so that there will be right security to the grassroots.
We are also instituting a group composed of religious and ethnic leaders that I will chair to be meeting either fortnightly or monthly to deliberate and carry out assignments that will engender peaceful coexistence and development in the state. We believe that such forum would help us to understand each other better as well as work collectively to move the state better.
Apart from that, our concern remains the role of the federal government in resolving the matter. In that regard, one should ask, why are they taking people who fomented trouble in Plateau to Abuja without results? The truth is that they are afraid that if they are tried here, they are not likely to get away with their crime. If we want peace, we have to really stand up and stop these people who think they want to make money out of arms deals or using them to achieve their selfish goals. It is because nothing tangible has happened to them that is why they keep importing arms into the country. It is sad that till now the federal government has not disclosed to Nigerians the real owners of container loads of arms intercepted at the Lagos port since last year. They should be apprehended to face the law of this country.
How do you feel about the negative image that Jos, which hitherto was the envy of every Nigerian, now has?
If not for the fact that my people want me to continue my good work, I didn't actually want to be governor again; after all I was a military governor twice. I decided to seek a second term so that I can deliver the state from its socio-economic and political doldrums and not the usual penchant for acquiring political power and wealth. But despite my honest efforts, they find it difficult to say good things about me.
Incidentally, my people are very satisfied and happy with what I am doing but those who feel they have the political birthright to decide who occupies what position see us as a threat. And what they are after is pulling us down using the media. That is why what has been happening in Jos has been unnecessarily sensationalized in the media, against the state government. I don't know why the reportage we keep getting is always skewed against us. It is something we cannot explain. That is why I always admonish Nigerian journalists to pay greater attention to investigation, because if they keep feeding the public cocktails of information handed to them, we will never make major breakthrough in all aspects of our national life. It is as if the journalists here take pleasure in writing whatever they are told to write rather than presenting facts as it is.
I will really appreciate anybody who wants to write anything about Jos crisis or development efforts in Plateau to make out time and go round to see the things we are doing and interact with people who live in the state before doing so. I say this because the information we got about the state in the media, in most instances, are not the true position of things here and even the ordinary people themselves are amazed at the level of distortion of facts going on. When you go round and interact with the people, you will then realize whether what is being reported is actually the true state of things in the state.
However, I find it funny that nobody is talking about the whereabouts of those hoodlums imported from neighbouring countries like Chad, who were caught with dangerous weapons, duly arrested and taken to Abuja but yet to be brought to book. But all we keep hearing or reading about Jos crisis are negative things curiously slanted against the state. Even when similar things take place in other states like Bauchi or Borno. that of Plateau is given bold headlines with colorations like 'Jos boils again' or things like that. Like this last one that a policeman was killed inside a market, the report we got in the media was that there was a crisis.
Although it is understandable that people would naturally take to their heels when they see a uniformed policeman in pool of blood in a popular place like market, to avoid being attacked as well, but that doesn't mean it sparked off crisis. But to make the things in the state look far worse than they are and to portray the state government in bad light, we keep getting such unnecessary negative reports. When killings happen in Bauchi or Borno, it is not given such sensational headlines.
I am not saying that what is happening in those states are not as important as that of Plateau but ours is being portrayed in negative light. You can imagine that if people pick up quarrel in a drinking parlour, it will be reported as crisis. Some of these things happen in other parts of the country. The only difference is that the crises we have been having are being fomented by people from outside the state, who have remained largely untouchable.
I tell you, this reportage is not doing the image of the nation any good. When I was in the state of Texas in the United States, every morning you tune your radio or television set, the news you get is three people were killed in downtown Texas. If it happens here, I wonder the way our media would scream about it. Nigeria belongs to all of us. Whether we like it or not, this country is a beautiful one. No matter how bad things might have degenerated so far, it has never affected my love for my country and I will always prefer it above any other country. And I have done everything within my power to maintain my love and loyalty to this great country.
When I was in the Air Force, I had virtually all my trainings overseas and places far better than Nigeria. But I was never attracted to those countries. Immediately after my course, I returned to Nigeria because I want to stay in Nigeria, live all my life contributing to making the country a better place and die in the country. I love Nigeria because it is a beautiful and wonderful country; if only we can make it so and that is why I am using the opportunity of presiding over the affairs of Plateau State to make things better for Nigerians in the state. Incidentally, people who believe they have the exclusive rights to control the affairs of the country are after us. But by God's grace, they will never succeed because evil don't triumph over good.
What is the way out of the crisis?
The honest truth about the recurring crisis in Jos is that if I have been recognized by the federal government as the chief security officer and given the actual power to manage the internal security apparatus, the situation would have been brought under control. If we had been allowed to deal with the situation, it would have been a different thing all together. It is only now that they have recognized the fact that the military is subordinate to the civil authority in a democratic system. I believe things are changing for the better following the realization that the state has an important role to play in bringing the security situation under control. Very soon, the Operation Rainbow would provide the needed security stability in the city.
One important thing I would also want to remind you of is the never-give-up attitude of the people living in Jos. In spite of the ceaseless attacks on innocent citizens and the resultant killings and destruction, the people have refused to leave the city. This is not an accident. They love the city and believe that once external forces fuelling the mayhems are dispassionately dealt with in accordance with the law, Jos would become the usual haven of peace and hospitality for people from all walks of life.
They know that once the federal government takes a decisive action against those behind the attacks, the city will become a better place for all of us and they would start enjoying the benefits of our development programmes.
Despite the crisis that have bedeviled the state and the meagre resources at our disposal, we still managed to deliver on our key mandates. And we are ready to do more provided that we have a sustained peace and security stability in the state. Even though we don't trumpet our achievements like other states do, we are really blazing the trail in infrastructure development. But these things have been overshadowed by negative publicity we got about the crisis. But thank God that those things are there for people to see and appreciate.
Many believe that you are not doing enough to present the actual picture of the situation in Jos?
If I were to be responding to every lies or negative things said about Plateau or my government, I wouldn't even do anything meaningful; and I will be talking more than I do. You know we are all created differently. There are some people who would pay money for good things to be written of them even when there is nothing actually worthwhile they have done. Right from my time in the military, I don't have the penchant for blowing my own trumpet. I believe in allowing people to assess me or my work with fair and open mind.
That is why I have been urging the Nigerian media to invest more energy and resources in investigative journalism because this is the only way the public can actually know the truth behind what their leaders are telling them. Leaders can actually do more or be careful in their spending if they know that the same media they told they have done this or that would actually go round to ascertain the veracity of the report they got before actually going to press or in their subsequent editions.
After 50 years of nationhood, which I believe we are still celebrating till October 1, 2011, there is need for us to start doing things differently. We shouldn't continue doing things the way we used to do it, that has not helped us either as individuals or as a country. So many of us may not have the opportunity of witnessing Nigeria's centennial celebration and so it left for us to start laying good foundation for the country's future greatness now.
We have to set the agenda for the next generation and if we don't set the right agenda, by the time they start celebrating the centenary they would start cursing us for laying a bad foundation for them. I wouldn't be part of that history and that is why we have taken everything done to destabilize the state in our strides because we believe that one day a leader who is not ready to allow the blood of innocent Nigerians to be spilled unnecessarily would emerge and deal with the masterminds. How long shall we continue to witness Nigerian people fighting each other or killing people and destroying property for no just cause? That is the major question every Nigerian should be asking those in authority if truly they love this country, because we can't keep living like this. Our children and children's children would definitely not forgive us if we didn't act fast to reshape this country.
What is your position on the clamour for state police?
I have been speaking about this matter. I have been calling for enactment of a new law for the governors to either have control over police forces in their own localities or they form their own police. It has become absolutely necessary for our great country to have a decentralized police formation. We either have state police or police force within a state be put under the control of the governor.
But the case now is that police commissioners are sent and withdrawn from states by the federal government at will. You wake up one morning and hear that a new police commissioner has been posted to your state and by the time you are trying to understand him they would take him out for one reason or the other you as a governor would not know. They don't discuss with us before sending commissioners or withdrawing same. There is absolutely need to change that because it does not augur well for governors in a country as vast as Nigeria with increasing security challenges to still rely on the federal government entirely for the security of lives and property of citizens under their jurisdiction.
Some argue that incumbent governors may use the police to intimidate political opponents
Are the federal chief executive angels? Were Goodluck Jonathan and Namadi Sambo not formerly governors? Are they saying that it is only when they get to the presidency that they become responsible and make use of the police wisely? I can be president of this country, just like Umaru Musa Yar'Adua and Goodluck Jonathan, who rose from governorship to the presidency. If I decide to run for president will they say because I was a governor I will be irresponsible? So that argument does not fall in line. Police forces are not meant for witch-hunting anybody but to protect lives and property and what we are saying is that allowing state executives to exercise control over such important security task is absolutely necessary and the earlier we did that the better.
Plateau has a lot of political leaders in the country. Why have they kept quiet over happenings in the state?
I don't know. I think you people in the media should try and meet them to tell you the reason for their silence. We have plenty of them who are around – The J.T. Usenis, Dogonyaros, Mantus and Lars and the rest of them are the only ones that can answer this question.
In your opinion, what is the problem with the Nigerian federation?
There is everything wrong with the Constitution of the Federal Republic of Nigeria. That is why we are calling for a constitutional change. Based on this, let me criticize my own constituency (the military which I'm very much part of). I think this idea of imposing military constitution on the country is an anomaly. But thank God the first amendment has been made, which if improved upon we may usher in a proper democratic process.