LORD, HAVE MERCY!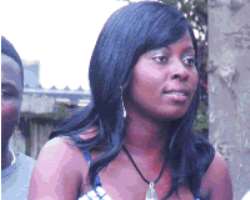 Hidden agenda?
Was this a deliberate effort to show off your designer leggings? Or an elaborate plan to conceal some very ugly spots on your legs? Until we acertain your true intention, this case is adjourned to the next hearing.
Squashed 'oranges'
You packed your 'tits' so tight that the sound of their groaning reached this court. By this act, you contravened section 101 of the Breast Care Act, an offence punishable with a jail term of 12 months on Koma Hills. But this court decided to temper justice
with mercy. Go and
sin no more.


 
.


 
 
Boobs for sale
This is one kind of 'product' display this court strongly frowns on. With people dying in Jos, Maiduguri, innocent citizens being trampled by horses in Port Harcourt, and the price of diesel hitting the high figure of N140 per litre, a sober attitude would be more politically correct than this offensive show. Pay a fine
of N5 million.


 
Trashy
In as much as we would have loved to admire your dress, we are unable to do so because your tailor failed miserably in finishing it up in a tidy manner. We can see the thread of your bow ( or is it belt?) and the shawl hanging. The fashion police are aordered to arrest your tailor as he has an explanation to give this court. Meanwhile pay a fine of N1million.
.


 
 
Gross!
That's the word Americans use to describe something unsavoury. The evidence beforew us clearly shows that this type of blouse was not intended to be worn by people of your size. For throwing decency to the winds, pay a fine of N10 million.


Peek-a-boo
This court will not relent in reprimanding ladies of your ilk who debase womnahood by indecent dressing. For this offence, KAI operatives are ordered to arrest and convey you to Deeper Life Training School, where you will be taught how to dress.
You are to deliver N500,000 worth of Peak milk to Little
Saints Orphanage.