I enjoy it when men are afraid to woo me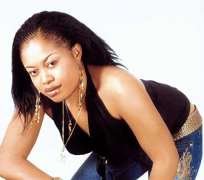 NKIRU Sylvanus is one of Nollywood's finest and most consistent role interpreters. She cuts the image of the kind of girl you would want to take home to mama.Deep down behind her simple mien and pleasant disposition, hides a strong willed individual, whose views about life, career and relationships stands her out as one damsel with a lot of brains, to top up her unquestionable beauty.
NFC accosted her recently and this piece is the fruit of that encounter.
Concept of the ideal african woman
She has to be very gorgeous and elegant. We, as African women should portray true Africanness in all we do. The African woman should be cultured and well mannered. She should be humble, neat and able to keep her home. She should maintain a natural beauty routine. It is the highest of insanity for the African woman to bleach her skin. A naturally black woman does not even need to make up. Her beauty stands out. I would give anything to have a very dark skin.
Why are men scared to woo her?
Because I am not cheap. I don't think it would've been right for any man to just walk up to me so easily demanding relationship from me. It is appropriate for them to be afraid. As a matter of fact, I enjoy it when men show apprehension to approach me for relationship.
Turns on in men
Sincere and natural men turn me on. I also like men that are loving and caring. Men who work hard and maintain a faithful relationship with God. My kind of man has to be tall, very dark and handsome.
Nudity
It is not African. I believe there should be a very good level of decency in dressing. Skimpy dresses does not make one elegant. We have so many African clothes materials that, if properly sewn can make you feel and look real African and still elegant. It is a big brush on the African culture for the African woman to dress in a manner to exposes vital aspects of her body.
Beauty secret
I eat healthy. I do not do much make up. I do normal scrubbing. I moisturize my skin a lot.
CAREER
God made it possible for me to be what I am today. I would not have made it on my own. I have also put in a lot of hard work. I take my job very seriously.
Location stress
I have gotten used top it. I manage, but I try to take a nap whenever I have the opportunity. I sleep well after each day's work.
Career after marriage
I will continue to act. It also depends on what my man wants and the understanding between both of us as regards my acting career.
Relaxation
I watch movies or go out with my friends. I also relax by traveling.
Favourite dish
I am not a junk food person. I love African dishes. My favourite dishes are Edikangikon and Plantain portage mixed with vegetables.