CHELSEA, EVERTON BACK ON WARPATH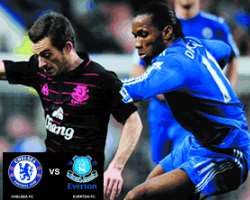 Stanford Bridge will literally be on fire this afternoon when Chelsea and Everton get back to their unfinished business in the English FA Cup Round of Four replay after their initial meeting on January 29 ended 1-1 at Goodison Park.
As Samson Siasia's effort at rebuilding the Super Eagles gathers momentum, the game would be important to the duo of Chelsea's John Mikel Obi and Everton's Victor Anichebe, who would use it to make a case for themselves in the emerging dispensation.
Under-performing Chelsea looks to overcome Everton again like it did in 2009 when it defeated Everton 2-1 to lift the FA Cup trophy. Standing fifth with 45 points on the league table, Chelsea, on paper, is the favourite to win against Everton, which is currently 13th on the table and just three points away from the drop line.
However, it would be the Blues' game against Everton, a team which has in the last two and half seasons proved that it could favourably square up with Chelsea any day after their five Premiership encounters had ended in draws.
Everyone would be looking to see if Chelsea's new high-hired Fernando Torres would be the one to make the difference in the team's line up after his two disappointing starts.
The like of Nicolas Anelka and Florent Malouda would be on hand to see off Everton's challenge, especially now that Loius Saha, the team's recent four-goal hero is down with injury.
However, Tim Cahill could be the one to inspire the Liverpool outfit to give the Blues a good fight.