FASHOLA, DOSUNMU DIFFER ON LAGOS DEV PLANS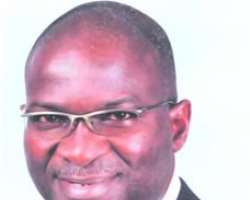 •Fashola
The battle to win the soul of Lagos in the forthcoming April general polls commenced in Lagos on Thursday with the incumbent Governor and candidate of Action Congress of Nigeria (ACN), Mr. Babatunde Fashola and his Peoples Democratic Party (PDP) opponent, Dr. Ade Dosunmu, differing on how best to transform the state.
The duo, who locked horns at a debate organised by the Lagos Chamber of Commerce and Industry (LCCI) in Ikeja, also disagreed on a number of developmental issues which include, the current tax policy in the state, modus for infrastructural development, housing policy, among others.
While Fashola blamed the long delay in the take-off of the fourth mainland bridge promised by his predecessor, Bola Ahmed Tinubu, 12 years ago, to the recent global economic financial crisis, Dosumu said such project would increase the tax burden already killing Lagos residents.
The PDP candidate told the gathering, which comprised captains of industry and political heavyweights that only the Federal Government had the capacity to handle the project, adding that the promise by the ACN government to build the bridge was foolhardy.
According to him, 'the ACN told Lagosians many years ago that it would build the bridge. Up till date, the plan is still on the drawing board; the Federal Government built the Third Mainland Bridge and the Federal Government under PDP will also build Fourth Mainland Bridge. If the ACN government should undertake the project, it would tax Lagosians out of existence.'
Coming down hard on Dosunmu, Fashola said since the Federal Government had failed in its numerous responsibilities to Nigerians, Lagos State would rather take its destiny in its hands. He said his government having started the infrastructural turn-around of Lagos, was determined to continue this path if re-elected.
The governor also gave his administration a pass mark on security, said in the last three and half years night life had been restored in Lagos, while robbery especially cases of attacks on banks had been stamped out.
The PDP candidate, who will formally flag off his campaign for the April 16 gubernatorial election today at the National Stadium, Surulere, Lagos, condemned what he called commercial housing schemes in the state, saying provision of housing and other infrastructural facilities should be the responsibility of government and must not be offered on commercial rate.
'If you build houses and you are selling at N50 million as a government, how many people can afford that?' he queried.