NATIONS CUP QUALIFIER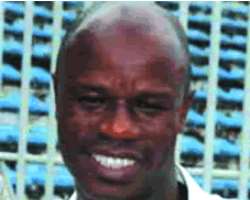 • Adepoju
After watching Super Eagles defeat the Leone Stars of Sierra Leone 2-1 last week, some football stakeholders have charged Coach Samson Siasia to go all out against Ethiopia in the forthcoming Africa Nations Cup (ANC) qualifier, stating that victory in that outing was not negotiable.
The duo of former Eagles' stars, Mutiu Adepoju and Friday Ekpo said Siasia must roll out every arsenal in his armoury to defeat Ethiopia, adding that the game remained crucial in the country's quest to play at the ANC in Gabon/Equatorial Guinea next year.
'I don't need to tell Siasia that our game with Ethiopia is a do or die match before he knows it,' Adepoju began.
'If I flash my mind back to the games Eagles had played so far in the qualifiers for the Nations Cup before Siasia's appointment as Eagles' new coach, then I would say that the coach needs to rise up to the billing and raise a solid squad for the upcoming cracker, because Eagles need a convincing victory in that match to scale through.
'Already, Nigeria is second on the Group B log with three points, while Guinea is leading the group with six points and a goal difference of three. So, Siasia has a lot of work to do as the man in charge.
'Nigerians are expecting him to turn the table around in favour of Nigeria and any attempt to slip could cause us dearly.
'With the current result Nigeria is already in a tight corner. Except Eagles soar above the challenges, Nigerians would only be dreaming of participating at the Nations Cup in vain,' Adepoju continued.
'I suggest that Siasia should start now to work towards winning the upcoming match. I believe that he can weather the storm considering his achievements with both the Under-20 and Olympic teams in the time past.
'As for the recent friendly match against the Leone Stars of Sierra Leone, I would say that the effort of the coach was commendable, at least, for introducing new players into the team and given the home-based ones the opportunity to showcase their talent.
'It was a very good beginning. I believe that with one or two more friendly matches, the team will gel. My advice is that Nigerians should keep drumming support for the team so that it to come out better.
'I would also warn that Nigerians should stop comparing the new kid on the bloc, Joel Obi with Okocha, because for me, Okocha was in the class of his own. People should stop distracting Obi so that he would feel free to play his game,' Adepoju charged.
On his part, Ekpo praised Siasia and his team for beating their opponents in their last friendly match in Lagos. Describing the team's performance against the Leone Stars as great, Ekpo called on sports-loving Nigerians to exercise patient with the Super Eagles as they gradually blend into becoming a solid team. He charged Eagles to make sure they beat Ethiopia next month, as Nigeria battles to pick a ticket to the next ANC. He stressed that it must be victory or nothing.
'The friendly match against Sierra Leone was Eagles' first outing under Siasia, and as such, no one should judge the team with that game. For me, Nigerians should be patient with the national team to enable the new coach and his crew do their work. I am sure the team will blend as days go by.
'Concerning the Nations Cup qualifier against Ethiopia, I advice Siasia and his boys to ensure they do everything possible to win that match, because it is very crucial towards Nigeria's quest to qualifier for the ANC billed for Gabon/Equatorial Guinea.
'The coach should endeavour to present a crack squad that will play like a team and not one that would see players playing to impress the coach and their fans,' Ekpo advised.