PACK AND GO, TINUBU TELLS JONATHAN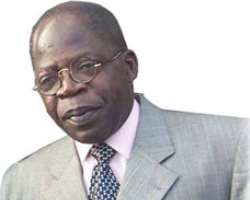 •Tinubu
Former Lagos State governor and chieftain of the Action Congress of Nigeria (ACN) Asiwaju Bola Ahmed Tinubu has dismissed the Peoples Democratic Party, (PDP)-led Federal Government as a colossal failure.
Giving a critique of the nation's budgetary policy and implementation yesterday in Abuja at the unveiling of the ACN manifesto and agenda, the former Lagos State governor frowned  at the sectoral  allocation which concedes 70% to recurrent expenditure, leaving a paltry 25% to capital expenditure.
In his opinion,  the PDP-led  administration feeds fat on the nation, giving back nothing in return. 'We  have a party of fat cats, feeding fat on the nation, ruining  the nation. You say, this  is  nation of milk and honey. Yes, but who is taking the milk and honey? The Poverty Development Party, (PDP)  the fat cats. Have they developed the nation at  all? No, they haven't!
'This is a government that spends 75% on recurrent expenditure and they share the money; even the twenty -five percent allotted to capital expenditure, they still share it and borrow to meet up on capital expenditures.
When you have a government borrowing, when crude oil prices are soaring, tell them they have no business in government. They should pack and go.' The  ACN chieftain assured  party supporters that a government  of ACN,  under Mallam Nuhu  Ribadu, would  restore hope in the nation and abandon the spending spree of the PDP government.
'We are going  to change from  a party of procurement policy,of fertilizer buyers to a government that would revatilise agriculture. This isn't  matter of rhetoric, we are going to do it.'' Former national chairman of the PDP, Chief  Audu Ogbeh, who gave a general overview of the ACN  manifesto at the event told the gathering that the party took the decision to avail Nigerians of its programmes, as he frowned at the trend in the country, where candidates canvass for votes without reference  to their programmes for the electorate.
' We do this in recognition of the prevailing public perception of political parties in Nigeria as no more than platforms and mere machines for vote catching, totally devoid of any ideological concerns. By and large that perception is right compared to the Second Republic. Parties today  do  suffer from what one may call issue definition syndrome. During the second republic, the Unity Party of Nigeria, was known for free education  while the National Party of Nigeria  was equally defined by its emphasis on housing and agriculture Since then,  political parties had hardly been definable and in most circumstances, not even party leaders can freely  and readily make reference to their manifesto and its main targets for society's transformation.
To fulfill all righteousness and meet the mandatory requirements for registration, even party can show a small booklets called manifesto to which little or no reference is ever made. After each  elections, all governance is left to the whims and caprices of the elected and to happenstance. 'The ACN  does not endorse this situation. A political party cannot be mere rallying point for votes winning. It must be an assembly of men and women driven by a common dream of societal uplifting.
It must recognize that it bears a huge moral burden for most societies, agencies and must be seen by the people to be constantly struggling to deal with these agencies. It must therefore  bring into politics and governance, a certain intellectual disposition and capacity to identify, analyse and proffer solutions to the problems and issues which confront society. Where a  political party lacks such capacity, as parties often do, it must invite experts, professionals and such other knowledgeable persons in society to assist. To do otherwise, is to abdicate responsibility and betray trust and to stand accused before God and man.''
Also speaking  at the event,  National Chairman of the party, Chief Bisi Akande,  who was represented by his deputy, Mr. Boss Mustapha also decried the situation, where politicians and political parties alienate the electorate and declared that the ACN  has ' the patriotic duty to individually and severally see to it that this great country does not degenerate  beyond what it is now.''
Former EFCC chairman and presidential  candidate of the party, Mallam Nuhu Ribadu   admonished the  party faithful to see themselves as the agents  of change, which in his  opinion, is very near. Ribadu identified corruption as  a menace that must be tackled, frontally before Nigerians would experience the dividend of democracy. 'It has become fashionable for everyone to talk mechanically about change in the country today, even those who have inflicted the worst injury to our treasury, and our best values speak glibly about change. But for us, the distinction is clear as daylight; the change we talk about begins with leadership that is transparent, accountable, competent, experienced, and virile.
'Such a leadership is needed to create a united, modern, secured, and just society that will meet the demands of the 21st century. Above all, however, such a leadership must answer the call to address three fundamental ills that plague the Nigerian society today: corruption, insecurity, and economic failure.  As these ills are tackled, the economic and social sectors will be revitalized such that the chronic problems of power, infrastructure, social amenities, and unemployment get the true attention they deserve.
'Unless we actively disable the capacity of corruption  to regenerate, through a cocktail of excellent laws, professionals enforcement engagements and vigorous public education on its dangers to our social health, no governance policy will work here, however excellent in planning and execution.''