Day my zipper opened on stage —Fragrance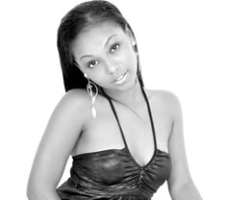 Fragrance is one female musician who displays a lot of confidence and believes in herself. Not new to the scene, the Warri, Delta State born lady is aiming for the top. She had done a song with Tuface and another one with Faze. She has a new song with the video making the rounds. The sultry Tsema Kayoh drives her fans crazy. In this interview with Hazeez Balogun, she bares her mind on issues relating to the music industry and her music.
The artiste
My name is Fragrance and I am a singer. I was born in Warri, Delta State to an Itsekiri father and a Scottish-Urhobo mother, which, of course, explains my colour. I refer to myself playfully as a quarter-caste.
Genre
Principally, I am a Rhythm and Blues act. I had experimented a lot with my music, delving into highlife, dance music just to appeal more to the Nigerian audience. My first single and video We be one featuring LKT is more of highlife/hiplife meeting Fuji. So, my music, I may just categorise as good music
Works
My sophomore album "Honeysweet". This album is long overdue. In fact, it has been pushed forward for over a year. But it will "drop" soon.
The industry
Kindly. Very kindly. Yes, there are challenges like when I was shortchanged by my former record label under which I released my debut album in 2007, 'So Lovely', a project which had such huge potentials all of which have nearly gone to waste for lack of continuity on their part (label) and an unwillingness to fulfill their side of the bargain. I have got good media support, even from the Nigerian Compass. I got the same from televsion stations even though I don't have the financial muscle that some of my peers have.
Challenges
Of course, money. I too would like to go to South Africa and do the kind of videos Darey Art-Alade is doing or that of Naeto C, but what can one do? We make the best of available resources. I am even luckier than a lot of my colleagues here. At least, the great DJ Tee shot my new video running on MTV Base and other local and terrestrial stations
Regrets
Truthfully? Yes oh! When hunger hammer you sometimes and no gari to drink sef. Hmm..".
But then, you remember that you chose to do this and you read and hear about how those at the top had it difficult as well, you go bear the hunger and turn am to fasting and praying and then use the anger to write something. I was born to sing and a singer I am.
Emabarrasing moment
At a show, my zipper got bad. I was professional about it and finished the performance but "I no find am funny at all sha!'
Friends
Just a few really. Kaka Igbokwe, Adol, maybe Goldie but I am a very private person. So, it is usually that we meet on our musical journey not like we just hang out. My friends are not in the industry. My real friends? Nigerian movies. I hang out with them a lot.
Mentor
Nobody really. Recently I got introduced to Christie Essien Igbokwe and she is phenomenal but I am more of a foreign music person. My mentor... Beyonce. She can sing and dance like... I beg she too much. But I learnt to sing listening to Mariah Carey.
Handling make fans
I dey run oh. Hmm. Almost every guy I talk to tries to take it further. It is the curse of a pretty woman. I just stay far away from everyone. When I become the star I am destined to be, then I will look around and definitely choose a guy. But now, na my project be my boyfriend. No distractions.
Leisure time
I watch Nigerian films, foreign series like Kyle XY; Heroes; Seeker etc. and then I sneak to the beach to feel the sand and water and sweet cool breeze.
Childhood memories
You want to make me sad now. I lost my mum last year. I am from a poor home. My mum was carrying the whole burden of over eight of us. No television like the neighbours'. You know, we pray for Christmas so we can get new clothes. That is if we get. But we (my family) were and are close still. So, basically, we might not have had much food but love was in extra supply. However love no dey belleful person? But it has toughened me for what I am doing. When I don't have paying shows, I don't cry as much as those artistes that grew up having a lot. I just thank God for everything
From your point of view, what do you think is the problem of the Nigerian music industry?
They should pay us royalties for airing our songs and playing our videos. Instead, we pay most of them. I mean they get so much money for adverts from showing our videos and playing our songs so we deserve some of the money. I mean, I can almost forgive Alaba but for TV houses and radio stations who are so educated and know what obtains in other climes and even inform us, to steal from us so much, is disheartening and discouraging. But I dey fear make them no go stop to play my music o! But the government must protect us artistes. It is an industry like any other that deserves to be protected and legislation made to ensure its continued growth. Imagine what will happen if all the artistes are frustrated into becoming robbers and prostitutes? Music gives youths a chance to add to society and instead of being a menace. Showkey says but for music, he'd have been an armed robber. That goes for a lot of the artistes that are stars today.
Government intervention
Government should ensure the artistes get their royalties from TV houses, radio and everyone that plays our music; even companies on roadside promo etc. and record labels should be prosecuted for withholding artistes' royalties. Most artistes are too broke to afford a lawyer when they are grossly cheated. For example, my humble self. So it must be made a crime. And people should stop buying pirated compact discs, especially Alaba mixes. It is killing music sales.