MOURINHO JOINS SCRAMBLE FOR TAYE TAIWO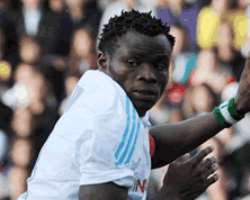 Taye Taiwo
Real Madrid has joined the scramble for Olympique Marseille's left-back, Taye Taiwo.
The free-scoring Nigeria wing-back has declared that he intended to leave Marseille in the summer.
Taiwo has been linked with Liverpool and Chelsea, while Manchester United's boss, Sir Alex Ferguson, made a personal check on him last week.
Real is also interested, where Coach Jose Mourinho remains unhappy with his left-back options.
Meanwhile,Taiwo wants to leave the Stade Velodrome in the summer amid reports of interest from Manchester City.
The Nigerian will be out of contract at the end of the season and could, therefore, move to a new club as a free agent.
Atletico Madrid failed in an attempt to sign Taiwo last summer and could return for the 25-year-old, but City's boss, Roberto Mancini, is also rumoured to be paying attention.
The full-back claims that he is already in negotiations regarding a move, however, he is not prepared to reveal the identity of the club.
I have decided not to extend my deal. In June, I want to change club.
'I don't want to reveal who we are negotiating with, but it's a club that plays in one of the three major European leagues.'