February 15, 2011

| Egypt
Egypt Army Seeks 6-Month Handover, Mubarak Ailing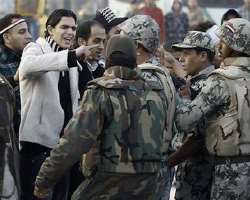 EGYPTIAN POLICE AND PROTESTERS DURING THE PROTESTS THAT LED TO THE FALL OF PRESIDENT HOSNI MUBARAK. PHOTGRAPH BY REUTERS.
Egypt's military said on Tuesday it hoped to hand over to an elected government in six months, but the Muslim Brotherhood said ending emergency law and freeing political prisoners would build a "bridge of confidence."
Rumours swirled about Hosni Mubarak's health. Saudi-owned Asharq al-Awsat newspaper said it was deteriorating and the deposed president had refused to go abroad for treatment.
A military source said Mubarak, 82, believed to be in the Red Sea resort of Sharm el-Sheikh, was "breathing." Another Egyptian source with links to the family said he was not well.
The military's remarks on the transition, carried by the state news agency, were the clearest sign since Mubarak quit on Friday that the generals were committed to a swift time frame for fulfilling their promises of elections and democracy.
But the Islamist Brotherhood, echoing the demands of pro-democracy activists and reformists, said it wanted the military to carry out further steps immediately.
"We, together with the entire nation ... are in need of a bridge of confidence between the army and the people," Essam al-Erian, a senior Brotherhood member, told Reuters, referring to lifting emergency law and releasing political prisoners.
On a public holiday for the Prophet Mohammad's birthday, Egypt paused for breath as the army sought to calm revolutionary fervour and get the country back to work. A dust storm deterred protests that have flared since Mubarak quit on Friday.
Facing a rash of pent-up labour demands from groups ranging from bank staff and tour guides to policemen and steelworkers, the new military rulers have urged people not to disrupt further an economy jolted by the 18-day uprising against Mubarak.
The central bank said banks would remain closed on Wednesday and Thursday after being closed on Monday because of strikes.
In another sign of potential damage to the economy, Arafa Holding, Egypt's biggest garment exporter, said on Tuesday it had closed its factories in Tenth of Ramadan City, in the desert outskirts west of Cairo, till February 17 due to strikes.
Some secular leaders fret that racing into presidential and parliamentary elections in a nation where Mubarak suppressed most opposition activity for 30 years may hand an edge to the Brotherhood, the best-organised political group.
"The Higher Military Council expressed its hope to hand over power within six months to a civilian authority and a president elected in a peaceful and free manner that expresses the views of the people," an armed forces statement said.
"The council affirmed that it does not seek power, that the current situation was imposed on the armed forces and that they have the confidence of the people."
A committee headed by an independent judge that met on Tuesday has been given 10 days to draft amendments to the constitution. The plan is to then put these to a referendum.
As the upheaval in Egypt sent shockwaves around the Middle East, troubling global financial markets jittery about oil supplies, clashes broke out in Bahrain and Yemen, neighbours of the world's biggest oil exporter Saudi Arabia.
Thousands of Iranians opposed to their government rallied on Monday in support of the uprisings in Egypt and Tunisia.
MUSLIM BROTHERHOOD ON TV
Existing political groupings are mostly weak and fragmented. The Muslim Brotherhood, which under the now-suspended constitution could not form a party, may be the most cohesive group but its true popularity has yet to be tested.
"When the popular demand for the freedom to form parties is realised, the group will found a political party," the Brotherhood said in a new statement.
Signalling the transformation in Egypt, state television aired an interview with the Brotherhood's Erian, something unimaginable in the Mubarak era.
The Brotherhood is an Islamist group founded in the 1920s with deep roots in Egypt's conservative Muslim society. Washington has expressed concern about its "anti-
American rhetoric" and said it has serious disagreements with it.
Pro-democracy leaders plan a big "Victory March" on Friday to celebrate the revolution and perhaps also to remind the military of the power of the street.
Uncertainty remains over how much influence the military will seek to exert in reshaping a corrupt and oppressive ruling system which it has propped up for six decades.
The military has promised free and fair elections, suspended the constitution and dissolved parliament, dismantling parts of the apparatus that kept Mubarak in power after he replaced Anwar Sadat, who was assassinated by Islamist radicals in 1981.
Members of the military council met editors of state-run and independent newspapers on Tuesday in an effort to spread the message that it was time for Egyptians to revive the economy.
Wael Ghonim, a Google executive who was detained for his part in the uprising, said military council members had told youth leaders on Sunday that a vote on constitutional amendments would take place in two months, a prelude to holding elections.
To placate activists, Egypt's army has pledged to lift a state of emergency in place throughout Mubarak's 30-year rule. Campaigners are impatient for this to happen soon.
ANGER SMOULDERING
With anger smouldering over rising prices, low wages and economic hardships that afflict many of Egypt's 80 million people, the military faces a delicate balancing act in accommodating demands unleashed by the revolution.
Protests, sit-ins and strikes have broken out at state institutions across Egypt, including the stock exchange, textile and steel firms, media groups, the postal services and railways.
Raising wages and subsidies on basic goods are options the military could use to calm labour unrest, analysts said, though such measures would throw liberal economic reforms into reverse.
In Tahrir Square, scene of clashes between protesters and police during the revolt, traffic flowed freely on Tuesday. Army tanks and armoured vehicles around the square and other Cairo locations have now been sandbagged into position.
The United States, Britain and France said on Monday Egypt had asked them to freeze the assets of former officials. Paris and Washington said Mubarak was not on the list of officials.