FALCONETS WAIT ON JONATHAN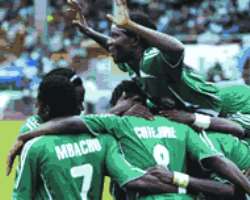 As President Goodluck Jonathan intensifies his presidential campaign across the country, members of the Under-20 women national team, Falconets, have called on him to remember to fulfil his promise of hosting them.
Falconets were the pride of the country last year at a time, when Nigeria football was at its lowest ebb as the made the country proud by coming second behind the eventual winners and hosts Germany, at the FIFA Under-20 Women World Cup.
Six months after the girls returned from Germany, they are yet to be received by Mr. President in fulfilment of his promise to the girls. It would be recalled that the President, Dr Jonathan said at the time that he was looking forward to receiving the girls in Abuja.
The players and their officials are worried that they have been neglected and are now calling on Mr. President to make their dreams of having a presidential hand shake a reality as they are waiting on him to brighten their lives.
The girls, who are already mobilising themselves to perform their civic responsibilities by voting to ensure that President Jonathan retains his position as the president of the country, said they hoped that when President Jonathan would be sworn in, the reception which he promised them would be part of the celebrations to usher in his reign come May 29.