JONATHAN DIDN'T CALL NAMES, BUT WEAR TAG IF IT SUITS - NIBORO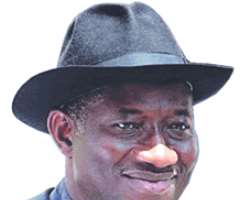 The Special Adviser to the President on Media and Publicity, Ima Niboro has said President Goodluck Jonathan did not name names in his reference to 'rascals' in the South-west as a way of expressing displeasure over the ouster of the People's Democratic Party (PDP) governors in Ondo, Ekiti and Osun states.
In a short response to questions by State House Correspondents yesterday, Niboro said, 'please note that the President didn't call any names when he said the South West is too important to be left in the hands of rascals. So anyone who wants to appriopriate the name to himself is welcomed to do so.'
Jonathan, on Tuesday at the Mapo Hall,Ibadan where he flaged off his campaign and those of other party contestants in the South-west region, had said the PDP must regain the lost states, including Lagos, from the opposition in the April elections.
'The South-west is too important to be left in the hands of rascals. We must take it over from them. The ruling party must take over Lagos. We must also take over Osun and Ekiti States,' he had told the gathering.
The President had described the South-west as a 'mini Nigeria,' adding that the zone houses the bulk of economic activities of the nation and remains the only state where a good percentage of its inhabitants are non-indigenes.
Jonathan had expressed happiness that the party had a strong base in the region, adding that they would not leave anything to chance in the forthcoming elections.
Following prolonged legal battles, the Appeal Court had ordered the removal of Olusegun Agagu, Segun Oni and Olagunsoye Oyinlola from office as respective governors of Ondo, Ekiti and Osun state, declaring their challengers as the lawful winners of elections that originally brought them in.