APRIL POLLS: COMMONWEALTH TASKS INEC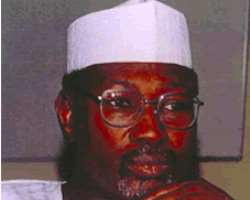 Jega
Against the background of criticism trailing the conduct of the voters registration and other electoral activities by the Independent National Electoral Commission (INEC), the Commonwealth has urged Nigerians to spare the Commission of incessant attacks.
The organisation expressed the view that it was too early to condemn the commission or doubt its ability to conduct credible elections in April.
It, however, urged the INEC to improve on the discharge of its duties.
Deputy Secretary-General, Mrs. Masire-Mwamba, gave the commonwealth's position in Abuja while fielding questions from journalists on preparation for the elections so far.
The deputy scribe, accompanied by the Head of Commonwealth, Africa, Ambassador Ayo Oke, told journalists that most of the issues, arising from activities leading to the election would have to be addressed one after the other.
When asked if an election conducted when willing voters were disenfranchised due to the inability of INEC to register them could be said to be credible, she parried the questions, saying her team was in Nigeria to prepare the ground for observation of the polls. Mwamba told journalists that the team had met with all stakeholders for the April polls, including the political parties, civil societies, presidential candidates, INEC and the media.
She said: 'The Commonwealth is at advanced stage of preparations for the monitoring of elections in Nigeria. The objective of our visit is to engage key actors and stakeholders involved in the forthcoming elections and re-affirm the Commonwealth's support and expectations of a peaceful and credible process.The Commonwealth takes a keen interest in elections across its membership.'
'Nigeria is a vauled member with whom we have a strong and mutual beneficial engagement. It is also a key member of the association which contributes and participates actively in Commonwealth activities.
'Our mission is to prepare to come and observe the elections in April. It matters to the Commonwealth, Africa and the world that Nigeria and other members of states conduct credible elections.' Further, she said: 'Since arriving in Abuja on Sunday, I have met with leaders of political parties, INEC, civil society representatives and the international community. I have listened to their view on how the process is going and discussed the progress as well as the challenges. In all our meetings we have had candid and open discussions.
'Stakeholders have noted positive steps in the preparations so far. I am hopeful that if all actors, politicians, civil society, the public and you members of the media continue to play your expected roles, there can be an outcome that reflects the will and aspirations of the people. 'Any election is a complex and challenging undertaking and requires the cooperation and support of all stakeholders. Political leaders and parties must display political will to ensure a credible process.
The people need to show faith in the democratic process and participate in it. It is crucial that violence is avoided by all means and the rule of law must be allowed to prevail. All must ensure that both the process and outcome meet Commonwealth values as well as international and regional electoral benchmarks to which Nigeria has committed itself. On our part, we will remain engaged and offer support and assistance as requested.'
On the areas Commonwealth had helped, Ambassador Oke said, 'We have been engaging with INEC. There have been cross fertilization of ideas with INEC Commissioner and other electoral umpires of other countries.'