PDP Enugu Faction Leader Tells Jonathan To Hand Flag To Onwuegbu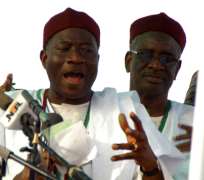 ABUJA, Feb 09, (THEWILL) – As President Goodluck Ebele Jonathan and the PDP train storm Enugu on the South-East Presidential campaign trail, the Chairman of a faction of the party in Enugu State, Chief Okey Ogbonna today in Abuja asked the President and the Acting National Chairman of the PDP, Dr. Haliru Bello Mohammed to hand the symbolic PDP Governorship flag to faction governorship candidate, Engr. Anayo Onwuegbu instead of Enugu State Governor, Mr. Sullivan Chime.
Recall that the Independent National Electoral Commission (INEC) on Tuesday delisted Chime as PDP Governorship candidate following a court order.
Addressing a press conference in Abuja, Chief Ogbonna said, "The President believes in the rule of law and our party is not above the law, INEC has de-listed the name of Governor Chime and said that it made a mistake. It therefore follows that the governorship flag of the PDP should not be handed over to Chime.
"Nigerians are watching to see what the President and the party will do at the Enugu rally. Will the President and PDP obey the court and respect the rule of law, we are watching. I should expect our President to obey the court order.
"The rally in Enugu will serve as a test of the avowed rule of law of President Jonathan and the Acting National Chairman.
"President Jonathan and the Acting National Chairman must hand over to Engr. Anayo Onwuegbu, who is the rightful governorship candidate," Ogbonna stated.
Political parties have until February 15, 2011 to substitute candidates for the April general elections and it is unclear how the political parties and INEC would resolve the tons of injunctions restraining the parties and INEC from clearing some candidates for the election.
So far, two State Governors have had their Governorship candidacy blocked by injunctions; Christopher Adebayo Alao-Akala (Oyo State, PDP) and Mr. Sullivan Chime (Enugu State, PDP).
Another PDP Governor with a senatorial ambition, Otunba Gbenga Daniel (Ogun State) also had his candidacy blocked by a court. But a State High Court today ruled that his faction of the PDP in the state is the authentic faction and analysts are watching with keen interest to see how the electoral commission would handle the latest ruling.
L-R: Jonathan's COS, Mike Ogiadomhe, Governor Daniel, Chief Anenih and Secretary Kawu Baraje during the visit to Daniel's Sagamu country home.
But the PDP in a bid to convince Daniel not to decamp to another party sent a team made up of Board of Trustees member, Chief Tony Anenih, Chief of Staff to the President, Mr. Mike Ogiadomhe and Party National Secretary, Kawu Baraje to appeal to Daniel to remain in the party as efforts were been made to resolve issues surrounding the fate of his faction of the party.