MY ROLE IN PERFECT CHURCH WAS CHALLENGING…Ramsey Nouah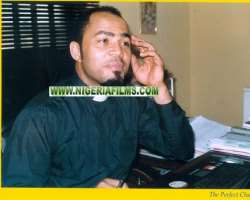 Ramsey Nouah Jr. winner of the 2010 African Movie Academy Award (AMAA) for Best Actor in a Leading Role, once again takes a lead role in 'The Perfect Church', a movie produced by Wale Adenuga. He recently opened up in an interview that his role in 'The Perfect Church' was challenging.
Playing the role of the handsome and spirit filled Pastor Benson, Ramsey Nouah once again demonstrated his acting prowess in the '*The Perfect Church'*. Speaking on his role in the movie Ramsey Nouah said 'In 'Perfect Church' I was a homosexual pastor. I didn't like the role at first but I said, 'Come on Ramsey, don't be stupid!' I did not have any homosexual contact in the movie, but it was evident in the dialogue and mannerism. What I did was psyche myself to see my partner as a guy.
In its second week at the cinemas, 'Perfect Church' is following the trail of great movies like 'Ije and 'Anchorbaby' and has continued to garner more accolades reflected in packed full cinema halls every time the movie is shown.
Asked if he will be able to reproduce his status as the king of soap opera in feature films? Wale Adenuga said 'all forms of production requires the four big 'Ms', Money, Man, Machine and Material. The machine been used is the only difference between TV production and Cinema production, all these we know and have considered in producing 'The Perfect Church'. I have no doubts it is going to succeed at the cinema because we used the best materials and the right cast in producing the movie.
The Perfect Church is a story of deceit, repentance and forgiveness that simply relays the message that we are only made perfect by grace. It tells the story of a church with perfect reputation and holy people with unholy secret. Pastor Benson (Ramsey) presides over the church, Sis Angela (Funke) leads the choir while Mr and Mrs. Ojo (Hakeem and Ngozi) are the elders.
There lives are perfect until Bishop Williams (Olu Jacobs) comes to deliver a confusing vision. All hell was let lose and lives and reputation are sacrificed.