I DONT CONSIDER MYSELF A STAR YET(GIDEON OKEKE)TINSEL SOAP STAR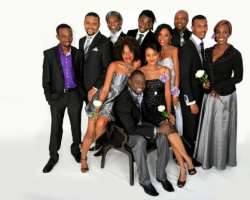 Gideon okeke is no doubt one of The fast rising Actor in nollywood.He Launched his career in 2006 on the Reality show Big Brother Nigeria,Though he didn't get to win but it set a platform for him to ride on.
He holds a bachelors degree programme in Applied Biochemistry from Nnamdi Azikwe university Akwa but this young dude felt the period he spent in school was a share waste of time because the course he studied, never impacted is chosen career in anyway.
His zeal and passion for success made him delve into other parts of showbiz i.e Modelling, Recording artist,tv presenter etc.He explained in an recent interview that is role in the soap (TINSEL) never come on a platter of Gold rather he worked so hard and go Extra miles before getting the role in which over ten thousand people came for the audition.
He was asked on how life has Been as a star? And he bluntly said,i don't consider myself as a star yet because i believe my best is yet to come.And on future plans ,He said is planning to have his own Art institute where knowledge can be shared and Gained from people from all works of the indusry.He furthermore that the 2 workshops he did for the ( THE FUTURE NIGERIA) precipitated is plans of owing an art institute.